Korean travel startup WeMeetPlace is providing the ultimate solution to solve all your traveling problems. It provides a comprehensive traveling experience to its users by letting them have travel meet-ups. The platform recommends travel destinations where you can other people can meet via WeMeetPlace. Moreover, travelers can find various activities that they can plan and do together.
WeMeetPlace has an intuitive guide that tells you how to travel right. For instance, it will tell you what food is the best in particular places. On top of that, the platform also recommends amazing places based on your likes and preferences. To be more specific, meeting management, place recommendations, reservations, and social networking services (SNS) are some of its main features.
Social Networking in WeMeetPlace
The social networking service present in WeMeetPlace allows travelers with common interests to meet. This platform lets you find people who live thousands of miles away from your location. After that, you can plan a tour of your favorite destination and meet there. The SNS matches users with foreigners based on their interests.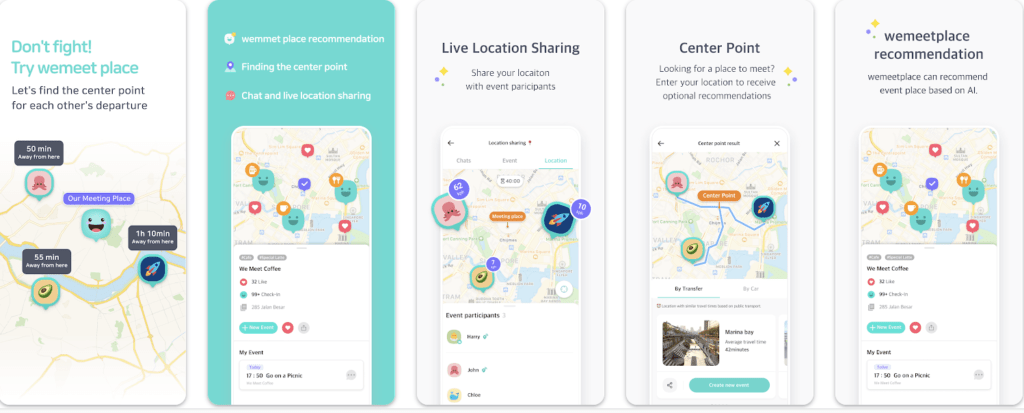 The matching algorithm is powered by GPS and artificial intelligence. As a result, it functions very well and matches people that have the same or similar interests. Moreover, many people think that it is a reliable feature if you want to meet travel buddies. The AI looks for common hobbies and interests in nearby spaces.
MZ generation in South Korea is where WeMeetPlace is the most popular. Moreover, this platform is recognized in more than 80 countries for its competitiveness. The beta version of WeMeetPlace was launched in 2021, and the company is continuously rolling out updates that provide service in English in over 200 countries. As a result, it is becoming a global travel tech company.
WeMeetPlace is Well Supported
WeMeetPlace is also supported by the Seoul Fintech Lab. It is a fintech accelerator funded by Korean Metropolitan Government. The company is located in Seoul; hence it is easier for WeMeetPlace to work under the guidance of Seoul Fintech Lab. The company has started developing transitions of the app into an open meet-up platform. This will result in better recommendations and easy payment methods.
For consumers, the company is always developing new features and improving existing features. Moreover, WeMeetPlace is also creating a B2B option for other business to lay their services that will improve hospitality and tourism.
The company is set to launch the app worldwide, making it become a "global first." This news was confirmed in the July update. As a result, the global launch of WeMeetPlace will follow the footsteps of many other Korean startups that make their debut worldwide.
The CEO of WeMeetPlace says that they believe that WeMeetPlace is a global app and provides meet-ups worldwide. Moreover, he also adds that the major July update will help us reach our main goal faster. On other occasions, he also says that "all our future developments are aligned with global markets to ensure we have the largest possible reach."
In the end
WeMeetPlace is an absolutely great beginning to making traveling a better experience. It is the perfect app or platform for people who wants to search for travel destinations and people to travel with. The company is well-funded, and minor bugs fix and upgrades will be regularly rolled out. 
In the post covid era, it is important for people to find communities and create a thriving environment, especially in traveling. WeMeetPlace is setting foot in the right direction by giving people a platform to meet. However, it is not the meet-up that makes it special; the algorithm matching people with similar interests is what gets the attention.