Deep Bio, a pioneer in medical AI and cancer diagnostics software, has launched DeepDx-Prostate Pro, an AI solution for grading prostate cancer severity.
South Korean company, Deep Bio, is an Artificial intelligence startup that integrates human intelligence with Artificial intelligence. Deep Bio was founded by Sun Woo Kim, and he is currently in the company's CEO (Chief Executive Officer) position. Sun Woo Kim founded Deep Bio with the mission to drive innovation in technology to advance the outcomes for patients. Empowering the clinicians, it provides the tools which give them the ability to make decisions even in critical situations. He also wants to build a world where clinicians are empowered with the latest technology, which is specially designed to enhance healthcare so that clinicians can apply their full focus on treating their patients.
Journey of Deep Bio
The development in the field of pathology was not rapid but was necessary. In the medical field of pathology, sample specimens such as body tissues, organs, and body fluids are diagnosed and examined by microscope and glass slides of specimens to examine and identify the presence of disease. Deep Bio believes in solving these problems in the medical field with the help of technology and Artificial intelligence. Deep Bio focuses on transforming the knowledge of machine learning engineers to derive transformation in the medical field through Artificial intelligence.
🎥Here is an interview with our CEO Sun Woo Kim where he discusses Deep Bio's journey of innovation in the #digitalpathology space: https://t.co/PpJaXQYcHe

Also, visit booth #2161 at #AUA2022 to see a demo of DeepDx Prostate! pic.twitter.com/bCdtPf9hmz

— DeepBio (@deepbio_ai) May 14, 2022
Traditional Workflows
Earlier the workflow of pathology was complex and much more time taking. The traditional way of examining and identifying prostate cancer was very slow and inaccurate.
First, the patient who is under the clinical suspicion of having prostate cancer undergoes the needle biopsy of the prostate. His processed tissue specimens, mounted and stained in the glass slides, are examined. Lastly, after the examination, a diagnosis is issued. 
Also, the biggest problem was that pathologists with traditional approaches had different perspectives. Depending on their education and experiences, the diagnoses differ. And this difference in perspective creates a sense of discordance.
DeepDX – Prostate Pro
DeepDx Prostate Pro is medical software based on deep learning. It analyzes the WSI (Whole Slide Image) of the biopsies of the prostate to assist in Prostate Cancer's histopathological diagnosis. It uses the Gleason grading system to measure prostate cancer's severity.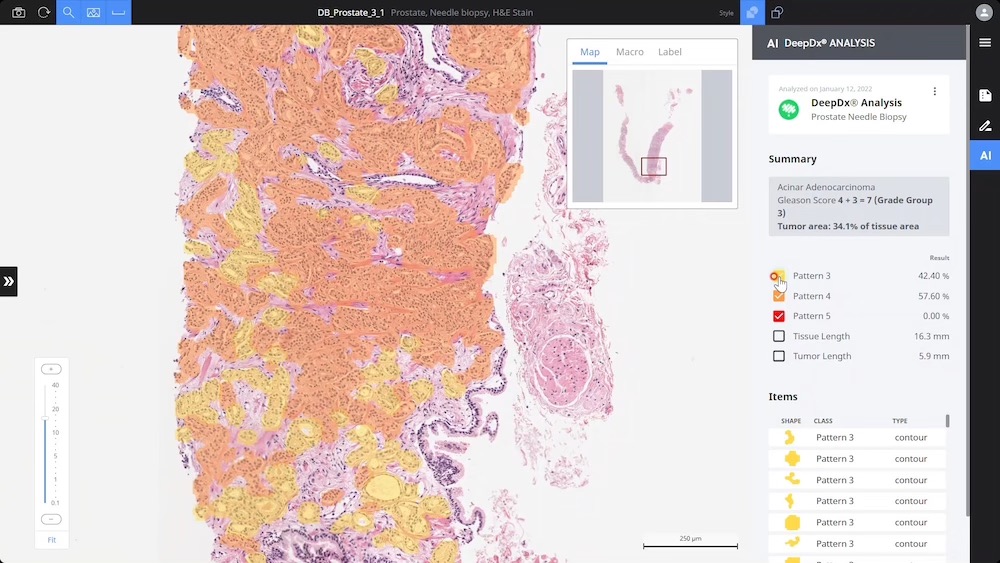 Korea MFDS approves the software. DeepDX Prostate Pro is designated as an innovative product by Korean PPS. The company's CEO (Chief Executive Officer), Sun-Woo Kim, sees this as an opportunity to confirm the value and performance of their software. When a clinical professional implements it in the actual clinical workflow, one can distinctly see its advantages. After being analyzed in the clinical validation study, the software shows high concordance and stabilized standards by referring to board-certified and experienced pathologists. 
Deep Bio presented its search results in many technology journals, science journals, and cancer journals. The company has built its presence globally via different digital pathology solution points located overseas in the USA, Europe, and also in India. It is as also presents itself in many international events and conferences. Also, much research was conducted in a corporation with Harvard Cancer institute, Stanford Medical School, and many top research institutes in America.
Benefits of DeepDX – Prostate Pro
If we talk about DeepDX – Prostate Pro, it is very beneficial compared to the traditional technology that pathologists used earlier. Recently, the number of patients (whether infected with cancer or not) has shown a rapid increase, which has led to an increase in the workload of pathologists. Also, the number of pathologists available was less than required, and the number of applications (by students) for the pathologist profession rapidly declined. 
In America, 18% of the decline was experienced by active pathologists from 2007 – 2017. Only 7 graduates in South Korea enrolled for pathology while 65 vacant seats were available. DeepDx Prostate Pro can annihilate all these demerits completely. It provides full accuracy in analyzing areas of interest and checks for the quality with potential, so nothing is missed in the process. The most important benefit that DeepDX provides in the medical field of pathology is consistency. Also, its high reproducibility in diagnoses is highly beneficial.