Achieving manageable hair is a dream for most women. Yet have you ever wondered why your hair looks so dull and dry? Well, the reason behind that is the lack of proper hair pampering. Though visiting a hair salon regularly is not a feasible option; hair serum from Korean beauty brands can become your ultimate hairstylist!
Benefits of Using a Hair Serum from Korean Beauty Brands
Applying a hair serum after washing your hair is one of the most crucial steps to attain gorgeous hair. The following are the advantages that a hair serum offers for your hair.
Nourishes and moisturizes the hair
Improves the texture and elasticity
Makes hair shiny and manageable
Smoothens and softens the hair
Optimum protection from heat damage
Eliminates dryness and frizz
Reduces breakages and hair loss
Best Hair Serums from Korean Brands
The hair serums by Korean beauty brands contain natural ingredients that offer optimum care for your hair. If you want to try one, then the following are the best Korean hair serums in the segment.
---
---
This reconstructive oil-based serum is rich in argan and vegetable oils along with the Black-20 complex. It helps in restoring the natural shine and softness in your hair. Furthermore, this product works well for dry and brittle hair to smoothen the texture. You can also use this oil serum to protect your hair from heat damage.
With natural ingredients, it assists in strengthening the hair to prevent breakage. By using this serum regularly, you can easily achieve silkier and healthier hair. Apart from this, it has a non-greasy consistency that feels lightweight on your hair. On the whole, this serum is effective in reducing the frizz and dryness of your hair.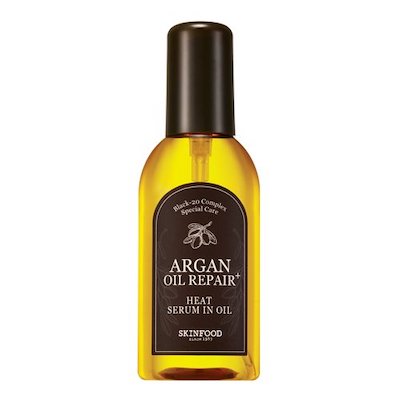 ---
---
This 2 in 1 shine serum adds volume and sheen to thin, dry, and frizzy hair. It comprises of a specialized formula that is rich in oil complex to give you nourished hair. Additionally, this product seals your hair cuticles with an ultra-moisturizing layer to improve the texture. It has a fruity yet watery floral fragrance that infuses a pleasing scent on your hair that lasts longer. If you have permed or color-treated hair, this serum will reverse the damage for hair replenishment.
To get glossy tresses, all you need to do is apply this serum evenly on your clean and towel-dried hair. However, to reduce split ends, focus more on the ends to enhance their appearance. It is rich in camellia oil and macadamia seed, and sunflower oil to nurture, calm, and soften rough hair.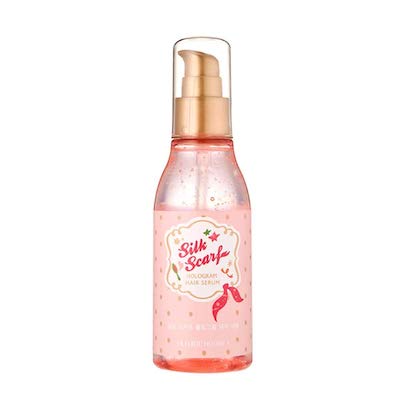 ---
---
This refreshing serum absorbs quickly into your hair without leaving any greasy finish. On top of that, it has a highly potent formula that helps in repairing hair damage. In addition to this, the serum comprises a blend of 7 diverse types of oils. These include argan, jojoba, coconut, camellia, apricot, marula, and olive oil. It helps in relieving various kinds of hair concerns.
With a lightweight feel, this hair serum from the Korean beauty brand, Mise En Scene, helps eliminate the frizz and dryness of your hair. It makes your hair feel smoother and softer than ever. Further, you can also combat hair breakage with this product. It works wonders for your hair within three days of regular use only. No matter if you have thin or weak hair, this serum is recommended for all hair types.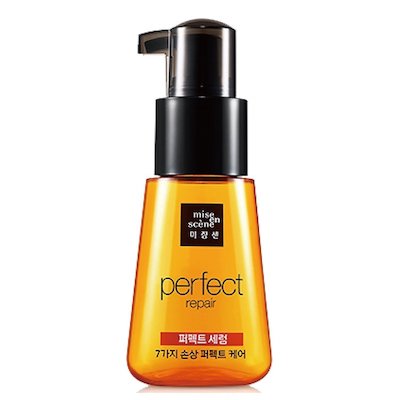 ---
---
This serum has a creamy consistency and lightweight texture that nourishes the hair without making it oily. The formulation of this product is rich in fresh and fermented camellia oil straight from Jeju Island. It infused a healthy sheen to dull hair strands. Apart from this, it replenishes and revitalizes the hair by filling the damaged hair's holes. Also, it coats the hair cuticles for a healthy look.
Moreover, the hair serum from the Korean beauty brand is effective in strengthening your hair. It improves and enhances the hair texture, even if you do frequent perming or coloring. For best results, it is advisable to pump the serum 2 to 3 times and apply thoroughly on your towel-dried hair, particularly the ends. To sum up, this serum makes your hair silkier, shinier, and softer.
---
---
This oil serum has a light consistency that penetrates quickly into the hair, making it healthier. It stimulates the process of repairing the damaged hair. Further, it has a pleasing floral scent that invigorates your senses. Apart from this, it nourishes as well as moisturizes your hair without leaving a greasy feel. Being a perfect remedy to combat split ends, this serum helps in making hair more manageable.
This Korean hair serum's formulation has biotin, sweet almond, argan, corn, camellia, jojoba, and hazel. It is useful in strengthening hair cuticles and prevents hair loss. Not only this, but this product aids in reducing hair breakage and protects it from environmental stressors. Infusing biotin or vitamin B7 improves hair elasticity, making it shinier and smoother. Moreover, it also regulates the functioning of the sebaceous gland of your scalp.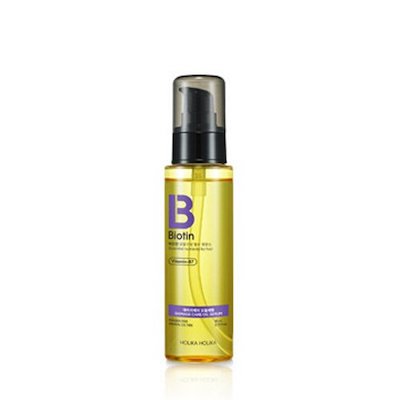 ---
Flaunting silky tresses is no longer challenging, thanks to the hair serum from Korean beauty brands. A Korean beauty brand hair serum does everything from conditioning your hair to enhancing its overall appearance. Include one in your hair care regime and get beautiful tresses in no time. 
Check out other interesting reads from KoreaProductPost about Korean hair care:
Our editors independently select all products featured on KoreaProductPost. However, we may earn an affiliate commission when you buy something through our retail links.