If you love spicy foods, then Korean fire noodles will be right up your alley! They have all the goodness of Korean instant ramen but pack a spicy punch. You might even feel like you are on fire!
And if you are wondering about the online "Korean Fire Noodle" challenges, this is the perfect time to try the hot, spicy ramen from Korea.
What is the Korean Fire Noodle Challenge?
The Korean Fire Noodle Challenge is about eating a full packet of Korean fire noodles in one sitting. You can make it more challenging by setting up a time limit or restricting any cool beverages to lower the heat! It started sometime in 2014 and has been continuing since then!
While it may sound simple, it isn't that easy to complete. Even as you look at the dish, you can see the hot sauce's fiery red-orange color. It completely matches the fire that lights up in your mouth after having the noodles.
What are Korean Fire Noodles?
Unless you've been living under a rock, Korean fire noodles are a particular type of spicy noodles from South Korea. While most people cannot handle the spiciness of these noodles, they still want to try it!
These noodles were first created by Samyang Foods, Inc. The company also makes a variety of other ramen flavors. However, over time, the Korean fire noodles have become their specialty. For most netizens, Samyang is become synonymous with the fiery hot Korean fire noodles!
Read on about the different versions of the Korean fire noodles from Samyang.
---
---
Samyang Spicy Fried Chicken Ramen is a spaghetti-style stir-fried noodle that comes with a really spicy sauce.
The noodles are firm and have a nice texture. They are very spicy, hotter than the buffalo sauce, but with a little sweetness. If you are trying out Korean fire noodles, this is the one you should choose as you can't go wrong with the original flavor.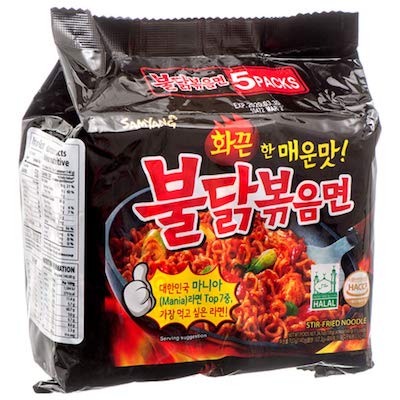 ---
---
Samyang Bulldark Spicy Chicken Roasted Noodles is two times spicier than the original version. It comes packed with plenty of heat that you keep tasting throughout.
The sauce is very spicy and it has undertones of little sweetness and a bit of savory flavors. But, as the name suggests, it is fiery hot! It is the nuclear version of the famous Samyang fire noodles with double the heat!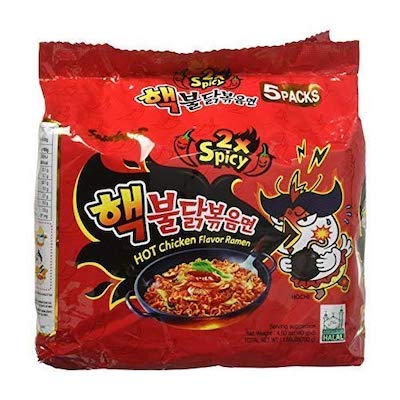 ---
---
Compared to other Korean fire noodles, Samyang Fire Hot Cheese Flavored Chicken Ramen Noodles are not as hot. You can enjoy the noodles without feeling like they are burning your mouth if you don't like too much spicy foods.
Essentially it's a match made in heaven for any one who like cheese and spicy noodles.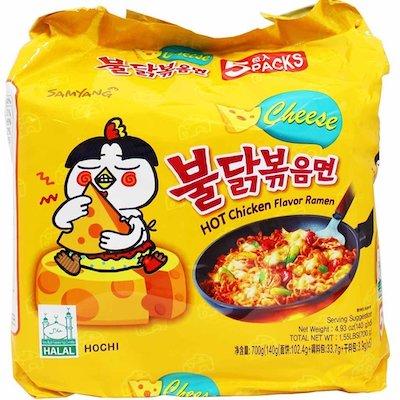 ---
---
Samyang Carbo Spicy Chicken Fried Noodles are not as spicy as the original spicy ramen from Samyang. It gets a great flavor boost with 'carbo,' making it much more flavorful. Carbonara is a popular sauce in South Korea that goes in everything, from rice to pasta!
The noodles are curlier and chewier. Taste-wise, it is a little cheesy, a little herby, and a lot spicy!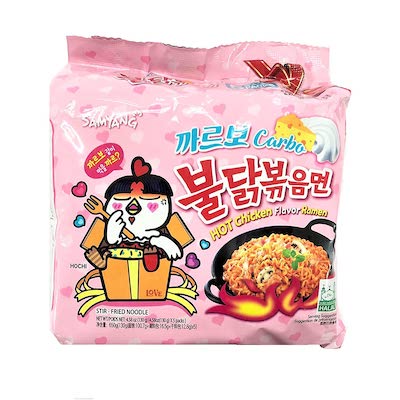 ---
---
Samyang Fire Hot Curry Flavored Chicken Ramen Noodles is deliciously hot and spicy. The heat builds up gradually and you can taste the curry flavor of the noodles.
Just remember, the 'curry' here is the Korean/Japanese version of curry – a thick, stewy type curry.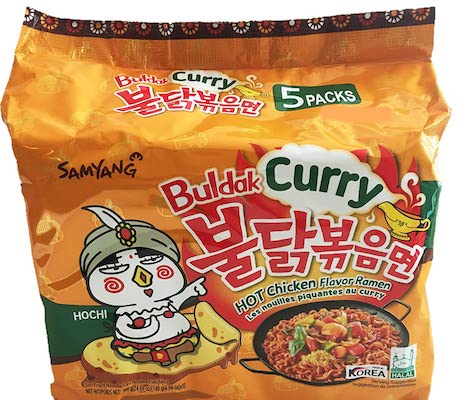 ---
---
Samyang Jjajang Hot Chicken Ramen has the sweetness of Chinese black bean paste and the classic Samyang fire noodles heat that follows. As compared to other Korean fire noodles, it is mostly mild.
It is a recent addition to the list of Korean fire noodles but an interesting one.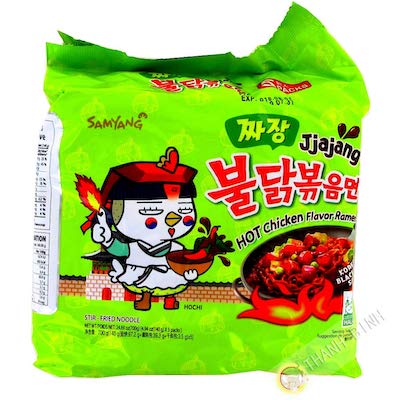 ---
After reading through the list, surely you too want a bowl of Korean fire noodles! Well, do try them out and let us know in comments how was the experience. Were they as hot as you expected or did it go like 'meh'!
If spicy isn't your cup of tea, then you can always try the best Korean instant ramen!
Read more interesting articles from KoreaProductPost:
Our editors independently select all products featured on KoreaProductPost. However, we may earn an affiliate commission when you buy something through our retail links.