There is no denying that people do not get the best quality sleep all the time. Unsatisfied sleeping experience happens due to cold, heat, and body pain. A night full of sweat or a night full of shivering is both a terrible experience. This is why T-Pillow is here to give you the relaxation that you deserve. The relaxation in the form of giving you the ideal temperature that you want to sleep in and a soothing massage.
Overview of TEGWAY Co. Ltd.
Established in 2014, TEGWAY is a South Korean company specializing in making applications from FTED or flexible thermoelectric devices. To put it simply, TED or thermoelectric devices has intuitive cooling, heating, and other electrical generation. However, the drawback of TED is its hard nature which is not ideal for putting it in a cushioning product like a pillow. As a result, TEGWAY has developed its own invention of flexible thermoelectric devices.
FTEDs are flexible and light, perfectly suitable for putting in pillows and other cushioning things. They are in high demand, and TEGWAY leads the wave with FTED. Their T-Pillow is a perfect example of what FTED can achieve if the implementations are correct. TEGWAY creates products that have all the features of TED but also at the convenience of the flexible, light, and thin nature that FTED offers.
This intuitive design with compelling hardware has led T-Pillow to receive an honoree for CES 2022 in Health & Wellness category. TEGWAY Co. Ltd. was the first to introduce a product in the hot and cold appliance.
The company headquarter is located in Daejeon, Korea, and its president is Kim. Kang Hee. With 1-50 total employees, the shipment of T-pillow is worldwide via ocean shipping.
Currently, TEGWAY holds 90 plus intellectual property rights, including trademarks and patents. Apart from the honoree that TEGWAY received for CES, they also won other awards like UNESCO Netexpli Award, The Africa Development Bank Award, and SEOUL VR/AR device award. The company aims to collaborate with more major corporations dominant in other fields like automobile, wearables and gaming market, etc.
What is T-Pillow?
Traditional pillows provide comfort to an extent where many people are satisfied with them. However, the advancement of technology has led to a whole new level of relaxation and utilization with the launch of T-Pillow. During the hot summer season, people suffer from sweating at night, and during winter, people cannot sleep due to coldness. As a result, TEGWAY Cp. Ltd is here to eliminate all those problems with T-Pillow.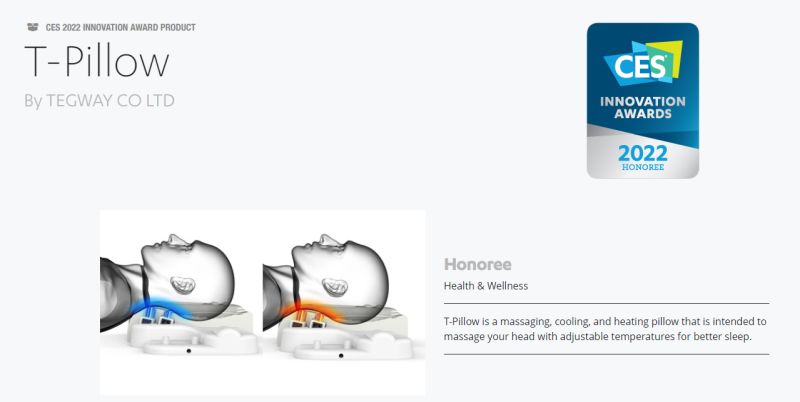 T-Pillow is a pillow that has all the functionalities of a conventional pillow but with multiple features up its sleeves. It can do cooling, heating, and massaging all from the surface of the T-pillow. The user only needs to put their head on the pillow, and the rest will be taken care of by the T-pillow.
The product provides a cooling and heating feature with an adjustable temperature that allows users to create the environment they desire. As a result, they will get better sleep and get more energy out of the quality of their sleep. 
T-pillow's flexible thermoelectric device (FTED) offers quick temperature adjustments. For instance, if the user can increase or decrease the temperature, the effect will occur immediately. The thermoelectric device is personalized and developed by TEGWAY Co. Ltd. specifically for the T-pillow. FTED is an electronic module that is thin, light, and flexible, and it is an electronic application that supplies cooling and heating functionalities.
The range of T-Pillow's temperature is from 5 degrees to 43 degrees Celsius, and this is entirely adequate for all humans around the world. Other than that, the massaging feature of the T-pillow is possible due to the installation of massage pins. Users can enjoy soothing massage sessions that will relieve their head and neck. In addition, the massage will also help many users sleep more quickly.
Conclusion
T-Pillow is a powerful device that can improve your sleeping schedule and make sleeping an interesting task. The massaging feature will give you a terrific experience that will put you to sleep in a few minutes. After that, the cooling/heating feature will keep you in a deep sleep all night.