Lillycover is a South Korean beauty startup offering smart skincare solutions using the innovative Muilli device for accurate skin diagnosis.
Lillycover is a South Korean brand and was founded in 2016 by SunHee An. She is currently the CEO of Lillycover. Before starting her career as a Beauty entrepreneur, SunHee An worked in the medical field, and she successfully developed a device for burn patients there.
During her period in the medical field, SunHee developed an interest in skin health and was determined to achieve solutions for different skin care problems. She believes that different humans have different kinds of skin, and the condition of their skin changes according to the food they consume, the environment in which they live, and the stress they suffer. So instead of using skin care products that are produced in huge quantities and stored in warehouses, everyone should use their customized skin care solutions.
This motivated SunHee to develop the skincare company which we know today as Lillycover. 
Lillycover has developed a skincare device that works on artificial intelligence and big data and helps users easily understand their skin types and what is ideal for their unique skin. The device by Lillycover is MUILLI. MUILLI is an easily portable device useful for plasma management and skin diagnosis.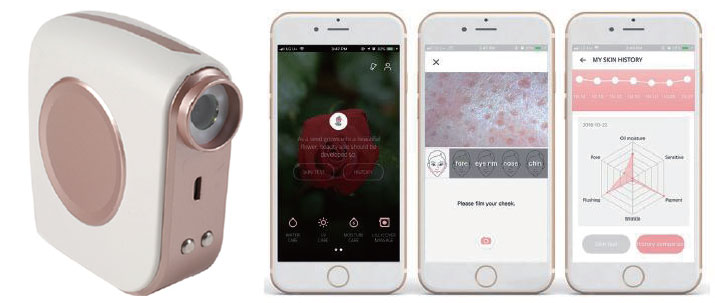 Using MUILLI is as simple as getting your personalized skin care products from Lillycover. A user must link the device with the app and then monitor and scan their skin. MUILLI then identifies the skin type and the skin problems, and after combining the data, it can create the most suitable product for the particular customer. According to Lillycover, the skin has a combination of 6 different elements. The sensor in the device collects the data on all six elements. After completing the analysis process, the customers can get a fully custom product for their skin. 
Personalized skincare and its Demand
In the beauty space, personalization is concerned with tailoring skin care items for different consumers because everyone has unique skin and different skin conditions.
If a person visits a skin care specialist or a dermatologist, then he would have to pay a high amount for his skin treatment, but Lillycover effectively eliminates this problem. Lillycover works together with different skin care specialists and dermatologists with the latest technologies and creates customizable products for its customers. 
Merits of Personalized Skin Care
Sustainable: Skin care can be effective for you only when you find a product that is ideal for your skin type. People spend a lot of money on several different products just to find that one product that will suit their particular skin type. The product which does not suit the skin is a waste, and using that product can also cause harm to your skin. Personalized skin care items indirectly reduce the amount of plastic waste in the environment because their production is on demand.
Inclusive: Several factors can affect a person's skin. A person's lifestyle, diet, sun exposure, exercise, and even genetic conditions can be responsible for his skin conditions. Many skin care companies produce different skin care products that are suitable for different skin types. To know your exact skin type and use that particular product only, companies like LILLYCOVER provide their customers with products that are personalized by the customers themselves according to their specific needs and problems. 
Beiersdorf, the German skincare giant, leads an NX NIVEA Accelerator organization, and Lillycover is a part of it. The main aim of this program of beauty acceleration is to bring both innovation and revolution to the beauty industry through a collaboration between beauty industries and South Korea.