Panthenol is a versatile ingredient that acts as a moisturizing element in many K-beauty products, such as lotion, foundation, lipstick, and mascaras.
When choosing a product for your skin, you need to pick the natural and safe ingredients, and what's better than an ingredient occurring organically in plants and animals? Panthenol is one such ingredient. It is also known as Vitamin B5 and is composed of pantothenic acid. Not only as a beauty ingredient, but panthenol has also been used as a medicinal remedy. 
Panthenol as a Moisturizing Beauty Ingredient
Panthenol is a provitamin that your body, in turn, converts into a specific Vitamin, i.e., Vitamin B5. This particular vitamin is responsible for retaining water in your skin while maintaining its elasticity and softness. Panthenol is more beneficial than other hydrating elements like hyaluronic acid, as it acts as an emollient as well as a humectant. Humectants bind and hold the water to the skin while the water gets locked in by the emollient.
Not only for skin use, but panthenol can also be advantageous for your hair as well. It can make your hair silky and shiny.
The Skincare Benefits of Panthenol
Countless skincare products are formulated with panthenol, which is a versatile ingredient. Other than the above-discussed benefits, panthenol gives you the following noteworthy effects-
Retains the water content in your skin and helps in deep moisturizing.
Improves skin texture and enhances your overall aesthetic.
Heals wounds and acne scars.
Contains anti-inflammatory merits.
Makes your skin super soft, smooth, and plump.
K-beauty Products Infused with Panthenol
Medicube Zero Pore One-Day Cream is a moisturizing cream specially designed for refining pores and giving your skin a smooth and soft texture. Panthenol, salicylic acid, and niacinamide are the key ingredients of this lightweight cream.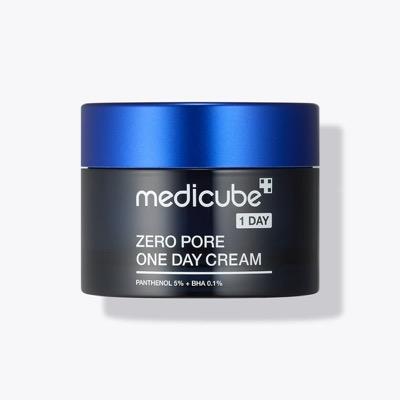 Medicube Zero Pore One-Day Cream is a combination of hydra-fresh and non-sticky moisturizing cream that is helpful for any skin type, including oily skin. This cream contains 5% panthenol which helps moisturize your skin easily, even in dry seasons. It also strengthens the skin barrier while preventing excessive sebum. 0.1% of salicylic acid (BHA) present in this cream helps remove pore waste and also removes whiteheads and blackheads.
If your skin is super sensitive or irritated, this product will do wonders for you. The beauty of Joseon is a renowned Korean skincare brand. The beauty secrets of Joseon dynasty women inspire their products. Their products also have a very aesthetic appeal and long-lasting effects on the skin.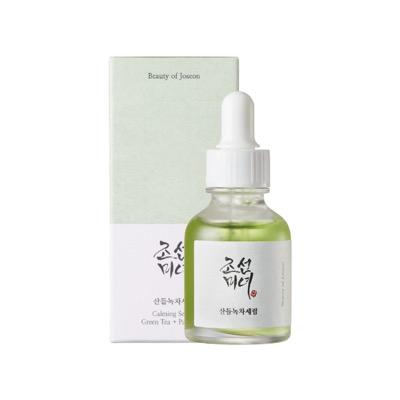 Beauty of Joseon Calming Serum is composed of green tea water (76.49%) and panthenol (2%). Green tea water has a soothing and hydrating effect on your skin. At the same time, panthenol creates a protective barrier over your skin to protect it from any external stimuli.
RNW is another popular Korean brand famous for its minimalist products and science-based solutions for any fundamental skin problems. Their motto is to "Renew Your Skin," aiming to solve skin problems such as dryness, pores, lightning, and others. They use safe, natural, and EWG green-graded ingredients.
This facial moisturizing cream is made for daily use and contains five types of ceramides, three types of hyaluronic acid, and panthenol. It will leave your skin fresh and hydrated. You can apply this moisturizing cream by incorporating it into your morning or night skincare routine.
Anua Heartleaf 80% Soothing Ampoule is composed of Heartleaf Extract water. This extract is organically grown and harvested in Korea. Heartleaf extract water is known for soothing and hydrating any dry or sensitive skin. This serum locks in the moisture outside your skin and from within.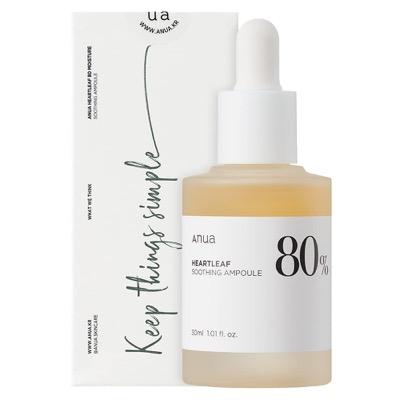 This lightweight texture serum contains all-natural ingredients that all skin types can use. The application of this serum will make your skin makeup ready. This product is cruelty-free, vegan, and also paraben free. Like Korean people, if you also want to get that glass skin, this product will help you achieve that.
Our editors independently select all products featured on KoreaProductPost. However, we may earn an affiliate commission when you buy something through our retail links.