Bring the next era in gaming to your home with the Samsung Gaming Hub, where gamers can discover and enjoy the games they love!
Television and gaming serve different purposes in general, and they haven't been utilized when it comes to gaming on TV. However, that can change with the rise of smart TVs and cloud gaming services. Samsung has partnered with Microsoft and Sony to create the All in one gaming hub. It will give players opportunities and give them access to thousands of games. On top of that, they can use their favorite consoles and streaming apps.
What is the Samsung Gaming Hub?
The Samsung gaming hub bridges the gap between software and hardware when it comes to playing games. As a result, it allows people who cannot afford high-end gaming systems can play modern triple-A titles. The company has partnered with leading gaming services and other relevant leaders in the industry. Together, they have created this all-in-one game streaming service. As a result, you can access thousands of modern games regardless of the platform.
With the Samsung gaming hub, players can browse through games from industry-leading platforms. These platforms are Xbox, NVIDIA GeForce NOW, Utomik, and Google Stadia. Later this year, this gaming hub will also include Amazon Luna alongside their gaming console.
Players can use suitable accessories to play the games. They can use Bluetooth headsets and controllers that are compatible with the Samsung Gaming Hub. As a result, players do not need to purchase any additional hardware dedicated to the Samsung gaming hub. In addition, players will see games recommendation based on their tastes and current trends.
Apart from gaming, the Samsung gaming hub also provides the ability to stream music as a mode of entertainment. There is an easy connection to twitch, Spotify, and youtube directly on many of the gaming hubs. As a result, players can seamlessly play and stream their favorite music while playing games. Inside the gaming hub, players can watch their favorite games, play games, get the latest gaming news and play music. In conclusion, It is a true gaming hub for all gamers worldwide.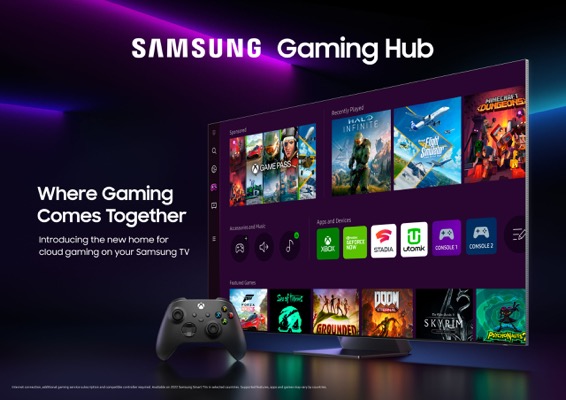 Low Latency through Cloud Gaming
Latency is probably the biggest concern when it comes to cloud gaming. That is why Samsung promises an amazing gaming experience with advanced motion enhancement. On top of that, they also added latency-reducing technology to improve the gaming experience further. However, you have to be using the selected lineup of TV and Smart Monitor Series from Samsung.
Samsung has also upgraded its AI upscaling technology to optimize graphics. As a result, players will get an amazing 4K and 8K gaming experience with incredible colors.
Supported TVs
The supported TVs with access to the Samsung gaming hub are 2022 smart TVs. These TVs are 2022 Neo QLED 8K, New QLED 4K, and other QLEDs. In addition, all the 2022 smart monitor series will also support the Samsung gaming hub. Every device that supports the gaming hub will be powered by Linux operating system and Tizen.
It Even Supports Latest Gaming Monitor!
The Samsung Gaming Hub will also offer a next-generation gaming experience with the recently launched Odyssey Ark gaming monitor. The ground-breaking Odyssey Ark is designed to deliver outstanding gaming performance, breathtaking cinematic experiences, and an interface with entirely optimized versatility.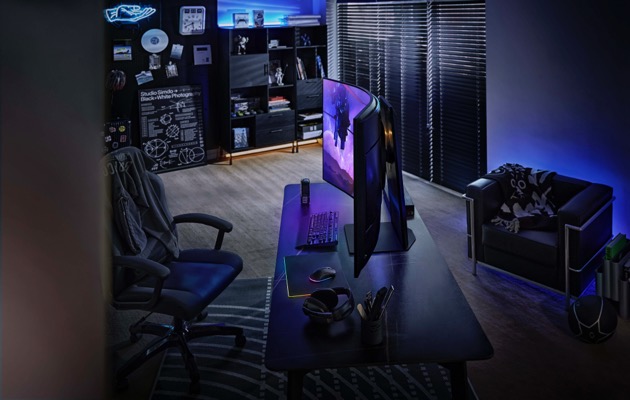 Supported Controllers
There are plenty of controllers in the market. As a result, the brand ensures that its gaming hub supports a wide range of controllers. The controllers that support the gaming hub are from brands like Sony, Google, Microsoft, and many more. Moreover, Samsung televisions allow easy connection of these controllers via Bluetooth. 
List of supported controllers
Xbox Series X/S, Xbox One, Xbox 360, Xbox Elite Wireless Series 2 and Xbox Adaptive controllers
DUalSense and DualShock 4 controllers
Luna Controllers
Stadia Controllers
F710, F510 and F310 Controllers
Shield Controller
MOGA XP5-X Plus Controller
Playstation and Xbox Support
While the Samsung Gaming Hub focuses on streaming games, it is true that console players would want to get hands-on as well. As a result, the gaming hub allows access to any console like the PS5 or Xbox Series X. As a result, the gaming experience will be more streamlined alongside other streaming services. This will gradually improve the user experience as players get used to this gaming hub connected to their console. 
Final Thoughts
You can access this gaming hub if you already have supported 2022 Samsung Smart TVs or smart monitors. It is free to use and integrated perfectly with supported devices.