Aloe vera, a magnificient ingedient with anti-inflammatory, antibacterial, astringent and antiseptic qualities, is found in several K-beauty products.
A very commonly found herbal plant, Aloe vera has been used for centuries due to its healing properties. This natural herbal remedy treats any sunburns and scars with its anti-inflammatory contents. Aloe vera nourishes not only your external body but also the internal parts; it boosts your immune system and helps digestion. Although today, we popularly use it for skin and hair benefits. 
Aloe Vera as a Moisturizing Beauty Ingredient
We have already discussed that aloe vera contains anti-inflammatory and antioxidants, making it a great agent for healing and boosting your skin's healing process. Besides its healing properties, Aloe vera has also made its way into skincare products as it is hydrating and soothing and can enhance your overall beauty. It is highly moisturizing and helps fight premature skin aging. If you have redness or dark spots on your face, aloe vera can help you with that.
Skincare Benefits of Aloe Vera
Contact with Aloe vera gel makes your skin feel cool and soothing, and this does not happen only because of its gel texture but also because Aloe vera contains different chemical properties. These properties can be truly beneficial for your skin. Following are some of its other benefits:
Aloe vera consists of an anti-inflammatory compound that provides relief from any frostbites or sunburns. 
Promotes skin cell regeneration and healing. 
Contains various vitamins, such as vitamins A, C, and E. This leads to collagen production, which in turn helps fight skin aging. 
It has antioxidants that create a natural barrier for your skin to protect itself from external factors such as pollution and UV rays. 
K-beauty Products Infused with Aloe Vera
Take a look at these Aloe vera K-beauty products that you can easily incorporate into your skincare routine and use all the goodness of aloe vera for healing your skin.
The Face Shop is a Korean brand offering 600 natural ingredients across 25 countries. They believe that everyone has a natural beauty that needs to be enhanced.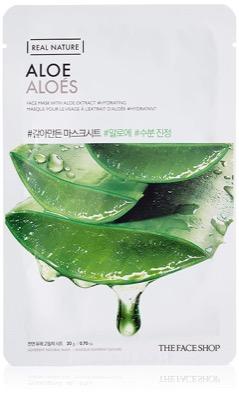 This aloe extract face mask will help transform your skin, making it hydrated, plump, and healthy. With its natural aloe vera essence, this face mask can make your skin supple, soft, and glowing in a couple of minutes. To use this product, wash and apply toner on your face. Gently unfold the piece of mask and place it on your face. Leave it for 10-15 minutes, and let your skin absorb the remaining content by patting gently. 
COSRX is a renowned Korean brand that all skincare enthusiasts admire. They believe in solving every person's skincare concerns by providing a customized solution.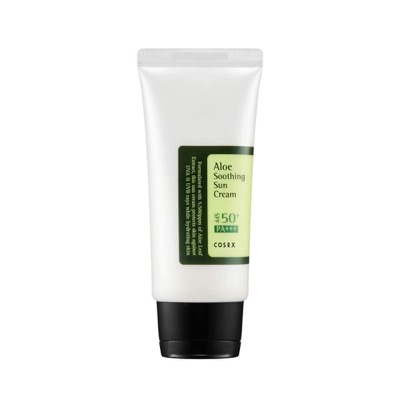 Composed of the key ingredient, Aloe Arborescens Leaf Extract, this is a sunscreen that also acts as a natural lightweight moisturizer. This cream protects your skin from UV rays and soothes your skin without leaving a white cast. This sunscreen should be applied for 30 minutes before stepping out into the sun. You can reapply this cream as per your skin requirements. 
Benton skincare brand believes in finding a permanent cure and restoring your skin to its youthful appearance rather than fixing it temporarily by using harmful ingredients.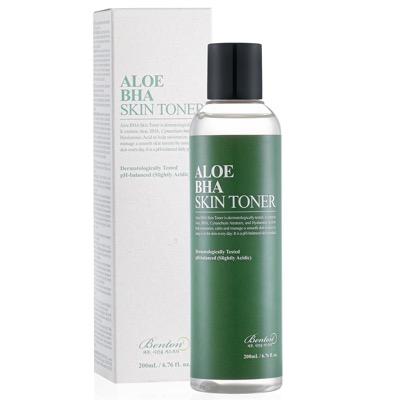 This exfoliating toner comprises Aloe, Salicylic Acid (BHA), and Portulaca Oleracea Extract. The aloe extract regulates sebum exceptions and clears the pores. This toner will help soothe any sensitive or acne-prone skin concerns. 
Established in 2010, Holika Holika is a Korean beauty brand that has expanded worldwide since then. They aim to make skincare a fun and practical experience, especially for young teens.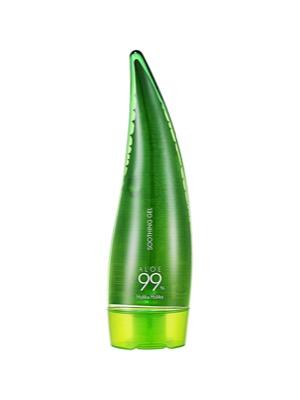 Enriched with the goodness of aloe extract, this gel formula will provide your skin with an extraordinary cooling and soothing effect. This penetrates easily into your skin without making it sticky or greasy. This soothing gel is a great option for dehydrated and stressed skin as it will relieve and make your skin soft, glowing, and healthy. 
Our editors independently select all products featured on KoreaProductPost. However, we may earn an affiliate commission when you buy something through our retail links.