Atoplam maternity care line of Koren beauty products is perfect and completely safe for pregnant women to use during their pregnancy.
Atopalm was launched in the year 2000, and now it has become a renowned Korean skincare brand specializing in making friendly products for people with sensitive and dry skin. With innovation and advanced technology, Atopalm has successfully created skincare formulas to help you get soft and healthier skin.
After being the #1 in Korea for almost a decade, Atopalm launched its maternity line a few years back that can help any pregnant woman's skincare journey.
Here are some of the products from their maternity line that you can shop today!
Atopalm's Massage Oil can be used before, after, and during pregnancy to prevent your skin from drying and improving its elasticity. The main ingredients used in this oil are Meadowfoam Seed Oil & Macadamia Seed Oil, Rapeseed Oil, and Myrciaria Dubia Fruit. All these oils come from natural sources, which serve many skin benefits. Together they can keep your skin moist and smooth, preventing any signs of dryness, and also makes a protective film to sustain that moisture.

Applying this oil is super easy and does not leave your skin greasy or sticky. Once you have massaged this oil, it gets easily absorbed and leaves you with a refreshing feeling. 
Stretch marks are very common in pregnancy due to excessive skin expansion. Still, no worries, Atopalm has come up with a dermatologist-approved stretch mark cream that will help you get your original skin back and improve your skin elasticity and texture. This cream contains Tremella Fuciformis Mushroom Collagen, Jojoba oil, Myrciaria Dubia Fruit, and Canola Oil. All these ingredients have various vitamins and nutrients.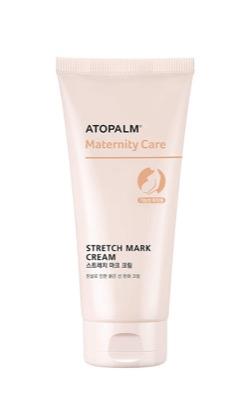 If you are experiencing skin redness or itching due to dry and stretched skin, this product can help you. Using this cream with the Atopalm Maternity Care massage Oil is best to achieve the best results. 
During pregnancy, not only the skin around the stomach and breasts change but also your legs, making it essential for you to take good care of them too. This relaxing leg cream by Atopalm is clinically confirmed to improve blood circulation, elasticity, and texture of the skin of your legs. This cream contains the goodness of Nephelium Longana Seed Extract, Ganoderma Lucidum Stem Extract, Meadowfoam Seed Oil, and Erythritol. This cream also helps in reducing skin irritation and reduces skin temperature.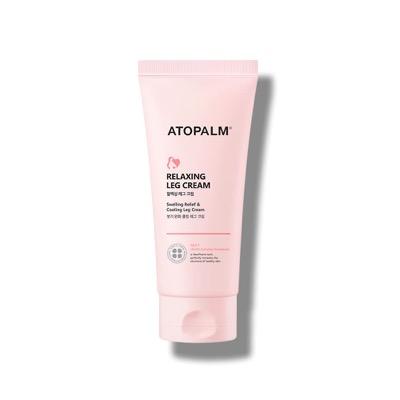 ATOPALM Maternity Care Relaxing Leg Cream is safe for use by a pregnant woman and anyone who often travels or stands all day, resulting in tired legs and weakened skin elasticity. It is free from any harmful ingredients and artificial colors/fragrances.
This lotion is the perfect solution if you or your baby experience frequent rashes due to cold weather. This soothing gel lotion is safe for pregnant women and their babies. This lotion contains Ceramide, Bamboo water, and Botanical Oils. Combined, these ingredients relieve redness, rash, baby acne, and eczema.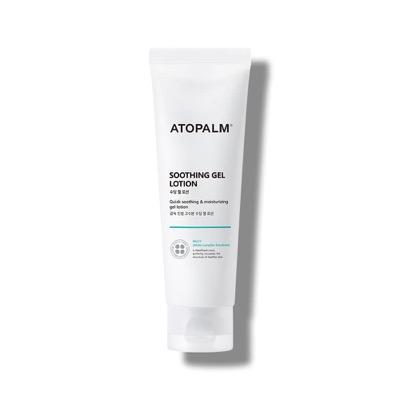 This lotion locks in the moisture while creating a barrier so your skin will feel comfortable after a sunburn. Applying this lotion will refresh you instantly and cool down the skin temperature to 42.8°F. You can use this product on your face, back, neck, hands, elbows, and behind the knees.
Atopalm's moisturizing hand treatment contains natural ingredients and the advanced technology of MLE (Multi-Lamellar Emulsion). Its ingredients include meadowfoam seed oil, panthenol, hydrogenated vegetable oil, glycerin, and propanediol. This hand moisturizing treatment keeps your skin hydrated and builds a protective barrier to replenish the hydration and moisture. You can use this cream before, after, and during pregnancy to tackle the skin problems such as fine lines and dryness, even though it does not belong to the Atoplam maternity care line.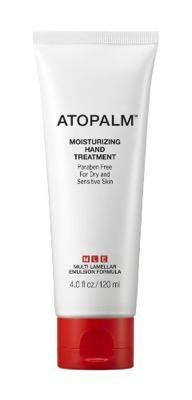 With the regular use of Atopalm moisturizing hand treatment, you can see effective results, and your skin will become brighter, smoother, and softer. It is clinically tested for sensitive skin, and the pH level is 5.5.
Related Posts
Our editors independently select all products featured on KoreaProductPost. However, we may earn an affiliate commission when you buy something through our retail links.