Are you looking for the best Korean fashion website? Or haven't tried Korean fashion yet? It's not too late! Update your wardrobe with some of the coolest pieces of Korean style without breaking the bank from these Korean fashion websites!
Do you love Korean fashion? Are you constantly wondering where to buy the perfect and affordable Korean clothing brands? Well, if the answer is yes, then you will love this post! We will cover the seven best Korean fashion shopping sites where you can shop for cheap Korean clothes online. 
Korean fashion has struck a chord in the hearts of zealous people about looking stylish every day. There is no doubt that all you need is a good outfit from an affordable Korean clothing brand to enhance and beautify your personality. All the fashion obsessives are always in pursuit of having a wardrobe full of fashionably chic outfits. That is why it becomes more essential to update your style and stock up your wardrobe with the trendiest and runway-stirred outfits. 
Korean street style is minimal, chic, and original! And, of course, you want it too. But how can you possibly get these amazing threads from halfway across the globe? Thanks to the internet and some great shopping websites, you can get some Korean-style threads straight from South Korea. And the best part is that these Korean fashion websites have a collection of cheap Korean clothes online, so you won't have to break your budget while indulging in some shopping!
Looking gorgeous every day is no more an unrealistic thought as you can don stylish outfits without spending a hefty amount of money on them.
If it is your first time hearing about Korean clothing and fashion, then you should check out the posts about Korean-style clothing here. 
8 Korean Websites for Fashion that are Affordable and Accessible
Are you craving the best of Korean fashion outfits? Do not worry, as the following seven Korean websites are up for the task. These websites for Korean fashion sell strikingly stylish outfits at budget-friendly prices. The best part about these online shopping websites is that they ship globally to your home country and certainly have a wide collection of affordable Korean clothing brands. 
If you are looking for the finest attires inspired solely by Korean fashion runways, then do check out the following websites to shop the statement outfits in a pocket-friendly way!
If you are looking for Korean style fashion, then YesStyle is the right place for you. You can find Korean fashion clothes for women, men, and children. While browsing through the Korean clothing online shopping site, you will find hundreds of options to choose from affordable Korean clothing brands. You can get your hands on some exclusive Korean fashion brands online like icrecream12, chuu, Michyeora, and many more.
The site user experience of this Korean fashion online store is excellent and greatly simplified. You can select a price range, preferred brand, and many more options to filter the results. In addition to very low-priced clothing options, the Korean clothing online shopping site offers many discounts in almost all their listings. And, for cart value less than $35, you have to pay a $13 express shipping fee. The site offers free express shipping to the US for a purchase of $59 or more. If you get charged for any customs-related taxes and fees, YesStyle will refund if the order value is under $1000.
Kooding markets itself as a 'one-stop Korean fashion destination.' And you won't believe it, but it actually is one of the best Korean clothing stores! They've got everything from regular tops and jeans to trendy clothes and even some fun shades from all the affordable Korean clothing brands. This store, like YesStyle is affordable and easy to navigate.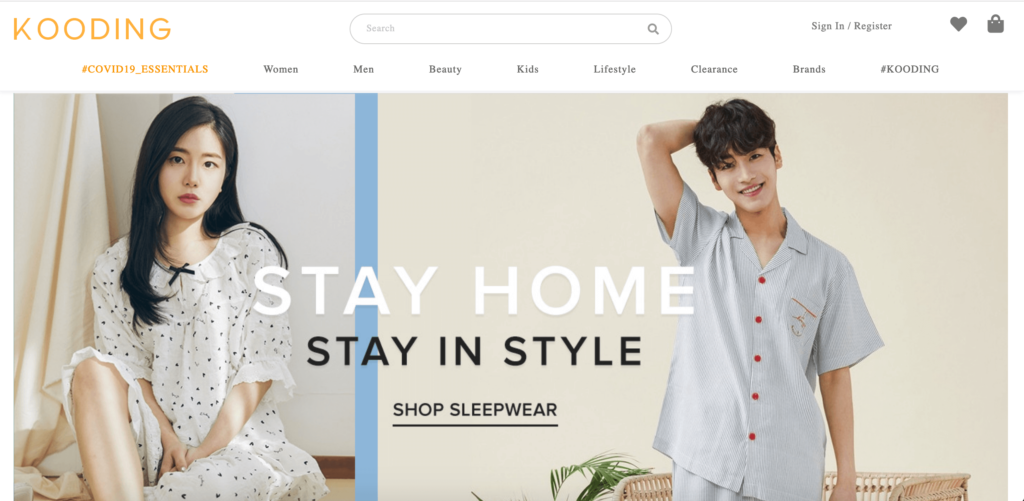 The shipping is free for a purchase of $59 or more, and it's just $8.99 for a purchase of under $29 in this Korean fashion online store. They also offer free returns, so you don't have to worry about the selected size being right or wrong, especially with international sizing. It is also one of the most navigable Korean fashion websites that you can find.
Stylenanda is a virtual place to find styles that are young, fresh, chic, and playful. It is also the best site to shop for accessories and outerwear. They have an extensive collection of blazers, jackets, coats, and bottoms. Compared to other Korean clothing online shopping sites, Stylenanda is slightly expensive, but the quality reflects its worth.
The Korean clothing online shopping site offers free shipping on orders over $200, which won't be too difficult to reach after you see the impressive collection. Stylenanda is not only available as an online Korean clothing store. There are physical stores all around the world, including Australia, Singapore, and Thailand.
The Korean online fashion store, MixxMix, has a whole range of women's clothes. What makes the site popular is the separate section of 'K-Stars Picks.' If you quickly browse through the MixxMix site, you can see all sorts of photos featuring Korean celebs wearing their clothes. Knowing that your favorite K-pop idol wears clothing from a store that even you can but from makes it undoubtedly exciting. Overall, the collection of cheap Korean clothes online is trendy and cutesy on the Korean fashion website.
The online Korean fashion shopping site is well known for its easy shipping to all parts of the world. The lead times are very short as they only sell what they have in stock. You can get what you ordered within 7-10 business days. They offer free shipping over orders of $200 and more. For a lesser cart value, the shipping fee for fastbox economy shipping is $14.99. And watch out for their sales as you can get some pretty steal deals. With membership, you receive $2 in-store credit while shopping on this Korean fashion website.
It's a cute and user-friendly Korean online shopping site for Korean fashion. It has collections from brands like strawberry milk, Dali hotel, HELLO KITTY, and their own brand, chuu. The brand is famous for its -5kg Jeans, the jeans to make you look thinner. They have endless collections of bags, accessories, and jewelry along with a wide variety of collections of cheap Korean clothes online.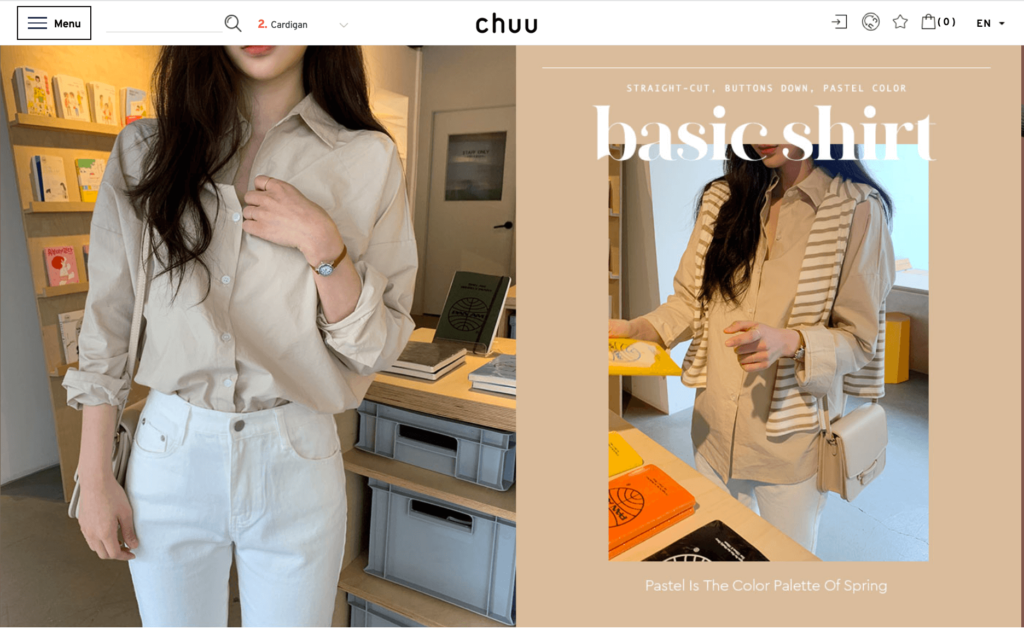 They have a standard flat shipping charge of $8.99 on orders below $200, the free shipping minimum. In general, orders take 3-12 business days to process, and you can expect your package within eight business days of shipment. This Korean fashion clothing website uses renowned agencies like DHL and EMS for shipping internationally.
STHSWEET (Somethin' Sweet) offers an extensive collection of cheap Korean fashion brands on its online shopping website. It includes brands like icecream12, chuu, MOCO BLING, DABAGIRL, Michyeora, and many more. Every day, new stuff is added, and it is offered at a flat 5% off for 72 hours after addition to the website. STHSWEET is the official Global website for icecream12 as they belong to the same parent company.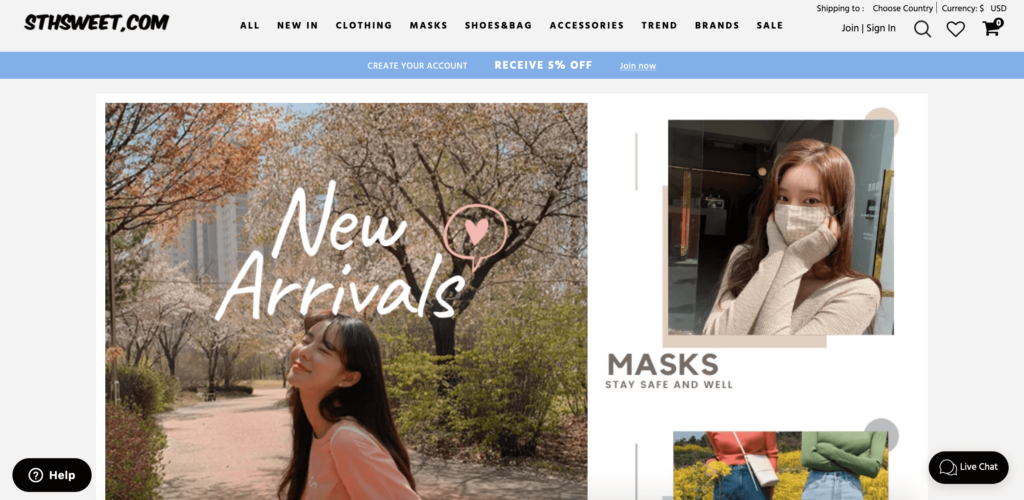 It offers free express shipping for orders over $200. For orders under $49.99, STHSWEET charges $8.99 with 1-3 days delivery. The Korean style clothing website uses DHL for transportation in most countries, making the service even better.
It is the fashion and lifestyle venture by Samsung C&T Fashion Group. SSF Shop is the place to get Korean style clothing from SSF domestic brands like Beanpole, KUHO, Juun.J, 8Seconds, and others. It also hosts collection from international brands like 10 Corso Como and Maison Kitsune. Amongst domestic Korean brands, you can find names like Nohant, ANDERSSON BELL, Taze, and many others. The collection of Korean clothing for women, men, and children are extensive on this Korean style clothing website. It offers a unique feature of 'Get the Style,' which provides suggestions and information about how to match clothes for time, place, and occasion depending upon each customer's unique needs.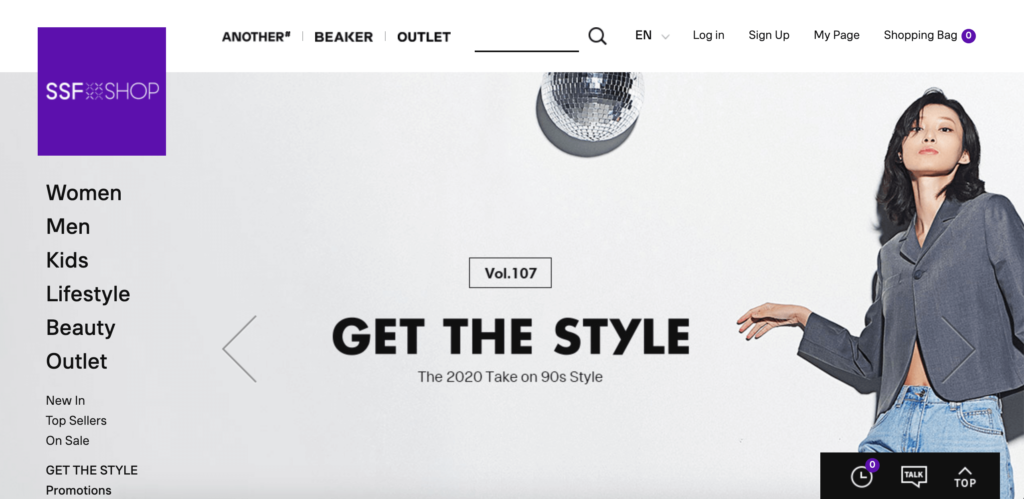 The shipping cost in SSF Shop is calculated based on the distance and the package weight. For example, a 1 kg package shipping to the US via EMS will cost $23.89.
Some of the other Korean online shopping sites like YesStyle that are worth mentioning include Kakuu Basic and Rowky, Okvit. 
StyleupK focuses on affordable casual streetwear from designer Korean fashion brands. Their Korean fashion partners include Romantic Crown, Heart Club, Acme de la vie, and many others. Unlike other Korean clothing online shopping sites that simply go for the lowest prices, the StyleupK collection emphasizes quality at an affordable price point to curate the Korean-style clothes on their site. You can shop for oversized unisex T-shirts, women's bags, shoes, and much more at StyleupK, the Korean-style clothing website.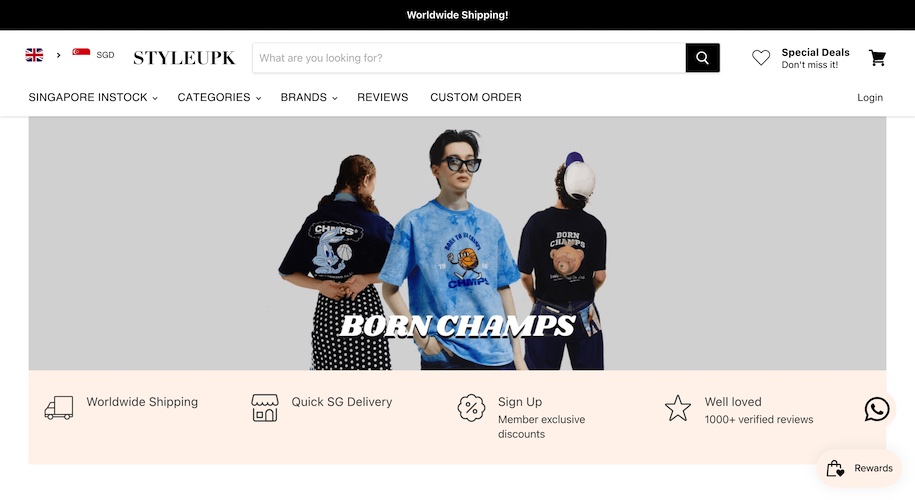 StyleupK provides free standard shipping to the USA above $190, and you can also enjoy a free upgrade to express shipping on orders above $265.
Final Words
All you need to shine on is good makeup, accessories, and of course, the right kind of outfit! These online shopping sites for cheap Korean clothes online will give you access to the best Korean fashion styles and bring them straight to your home from the runways. Forget all your concerns related to the budget as these Korean-style clothing websites like YesStyle are reasonably priced. Stock up your wardrobe with your dream outfits from affordable Korean clothing brands to step out of your homes in style throughout the year!
And there you have it, folks. Go forth and look superbly cool with the latest threads from the Korean fashion industry!
What's your go-to Korean clothing website for Korean fashion?