If you should know one thing about South Korea, it is that they take their fast food very seriously. South Korea has one of the most vibrant food cultures in the world, and fast food is a major part of it. Every major fast-food chain has multiple outlets in South Korea, and the unique palatability of South Korean cuisine has been integrated into many a restaurant menu.
We're always excited at the prospect of a juicy, life-altering collaboration that is going to leave its mark on the world immediately, and in this case, we mean juicy in the literal sense of the word! McDonald's has always had a special relationship with South Korea. The fast-food giant has released multiple items tailor-made for their Korean customers and saw an 18% increase in burger sales in South Korea just last year.
So, when McDonald's announced that they were launching a collaborative meal with the uber-famous K-Pop group BTS, the world took instant notice. How did this happen? When did it come out? We're here to answer all those questions and more!
Why BTS Collabs Have People So Hyped?
If you don't know about the record-smashing, chart-topping, Grammy-nominated group BTS by now, you have definitely been living under a boulder. The Bangtan Boys are, and this is not an exaggeration, the Beatles of South Korea. They are the highest-selling artists in South Korean history, the face of several high-profile South Korean companies as well as social campaigns, and the undisputed kings of social media.
Signed to Big Hit Entertainment, they experienced their first taste of international success in 2017, when a remix of their single "Mic Drop" from the "Love Yourself: Her" EP charted at No. 28 on the Billboard Hot 100, making them the first K-Pop act to have a Billboard Top 40 song in history.
The group has not looked back since then, taking their inspirational message full of hope for the youth global. Their 2020 single "Dynamite" broke several records, including the record for most non-consecutive weeks spent at number one on the Digital Sales Chart, as well as helping them become the first K-Pop band to stay on the Billboard 200 for a full calendar year while their album "Love Yourself: Answers" had spent 98 weeks on the charts as of February 2021, making them the first and only K-Pop act in history to do so.
BTS has also endorsed several high-profile South Korean brands in their prolific career. Tech giants Samsung have collaborated with BTS on the Galaxy 20+ and the Buds+. They are the brand ambassadors for Hyundai and LG. Western brands might find it harder to secure an association with the group, as the only fashion brands they have officially endorsed to date are Fila and Puma. Most of their efforts with American brands have been collaborations. So, when McDonald's announced their collaboration with BTS, the world took notice.
BTS x McDonald's: Part of a Bigger Plan
McDonald's is going through a renaissance of sorts in its decades-long existence. Their recent model of engagement has seen them take more of a front seat, encouraging their customers to reach out to them and interact with the brand of McDonald's through not just their food but also through creative content.
They launched the Best Burger Initiative a few years ago in an effort to connect with their overseas customers, cater to their tastes and preferences, and give them the "best burger possible" by upgrading cooking techniques, getting the best possible cooking ingredients, utensils, and so on. This initiative found its way to South Korea in 2020, where McDonald's has one of its largest overseas markets. 
McDonald's has also undertaken the Famous Orders program, which sees them collaborate with personalities who have a direct and far-reaching connection with their fans and with McDonald's itself in order to explore opportunities to drive up engagement and create lasting cultural moments. This initiative was launched with the Travis Scott Burger Meal, followed up by another collaboration with J Balvin. The BTS collab, however, is set up to be their biggest to date.
About the BTS Meal
McDonald's tweeted this image with the BTS symbol-shaped with fries on April 19 with a simple caption, "Coming this May: The BTS Meal." That much was enough to make the tweet go viral, as ARMYs salivated at the prospect of eating a meal that was personally curated by the K-Pop idols.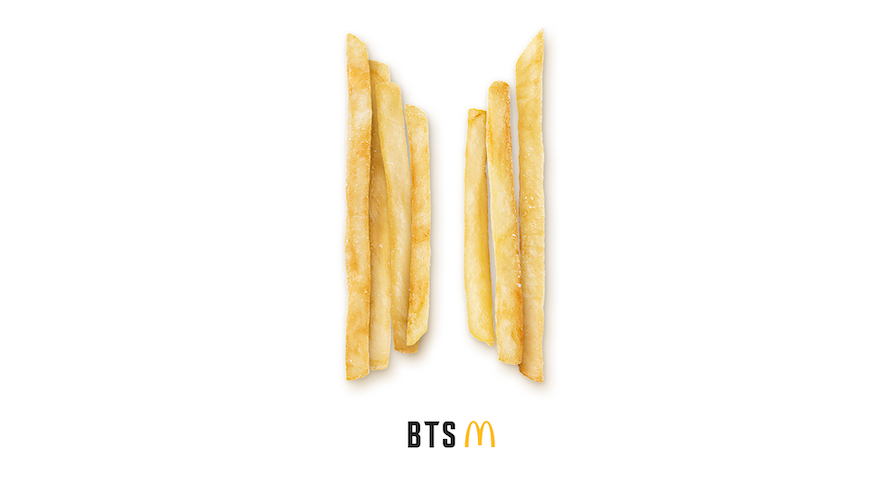 As noted, fast food is a big part of Korean food culture. McDonald's is looking to capture the unique flavor profile of South Korean cuisine and introduce it to taste buds from all across the globe.
The BTS Meal is inspired by the boyband's go-to preferences when ordering McDonald's. It includes 10 chicken McNuggets, a medium World Famous Fries, and a medium drink with two sauces- "Sweet Chilli" and "Cajun"- inspired by recipes from McDonald's South Korea. 
For desserts, there is BTS BTS (behind the scenes) content available in the Hamburger Beast app. You can find content like "Immersive Behind-the-Scenes Experience", BTS x McD Flipbook, "Final Behind-the-Scenes 360 Experiences", and a virtual portrait series, one dropped each week.
This is the first Famous Orders promotion that McDonald's is taking global, as the BTS meal was launched in around 50 countries starting May 26, 2021. This "global tour" had an expert promotion on social media, with McDonald's heavily featuring BTS in their promotional efforts and even teasing a merchandise drop in association with HYBE Merch.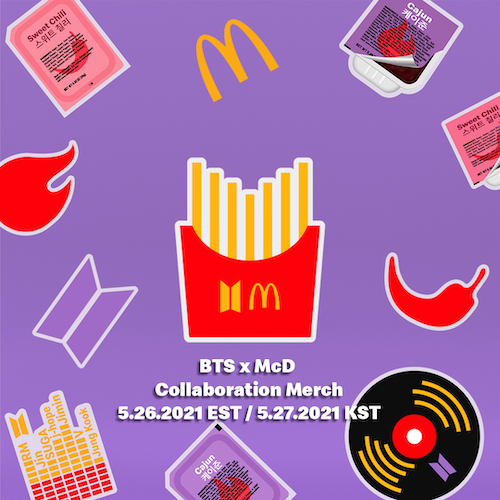 The BTS Meal has hit McDonald's outlets and will be available for over the course of a month, starting on May 26 in the US, Canada, Brazil, and other Western markets and concluding on June 25 with Indonesia. The full "tour schedule" can be found below:
Keeping up With Bangtan: What's Next for BTS?
BTS is gearing up for what can turn out to be their biggest summer yet. They recently released their 2nd English-language single, "Butter," which broke records yet again, amassing 10 million views in a measly 13 minutes. 
The rollout of The BTS Meal coincides with the release of their Japanese language compilation album "BTS: The Best," which is slated for release on June 16. BTS is a corporate juggernaut at this point, with multiple multinational companies courting their endorsements.
Little can be predicted about their "next move" because they're always working on something or the other. However, knowing their reach, unpredictable release schedules, and unparalleled marketing genius, we would not be surprised if their next commercial venture was sold out within seconds of being announced.
Fans' Happy Reactions!
But there were a few disappoints mixed in the bag!
So, line up for your BTS Meal ahead of time lest your local McD runs out within minutes of the launch, and don't forget to carry your earphones to listen to your BTS playlist because it's sure to be a long queue.