Ginseng's journey from being a medical marvel to a beauty wonder has been a fairy tale. Whether it is American Ginseng or Red Ginseng from Korea, this root has undoubtedly found its ground. Ginseng is a collective term given to a specific family of plants that grow fleshy roots. Korean Beauty and health industries have surely channelized these medicinal benefits of Red Ginseng, which uses the whole root, into its various skincare products and health supplements. Ranging from shampoo to face masks to creams and even tea and oils, you can find Korean red ginseng in a variety of products!
All you have to do is name a self-care routine, and you would be spoilt for the choice of K-beauty's massive red ginseng range of products. Below are some products that are available if you also are a fan of Red Ginseng. If not, it is worth trying it.
Hair Care
Brands under the Korean beauty umbrella have come up with multiple products that harness the properties of Red Ginseng. It strengthens the hair roots and follicles, reducing hair fall. Breakage of hair is decreased, and regular use of products improves scalp health with ginseng.
---
---
RGIII from Korea brings forward their hair loss clinical shampoo + hair treatment tube packed with red ginseng Saponi. They even have a patent for it. This shampoo boost preventing hair loss and reinstates lost hair strength. The set is available for $35.40 online, while just the shampoo is standing for $21.00.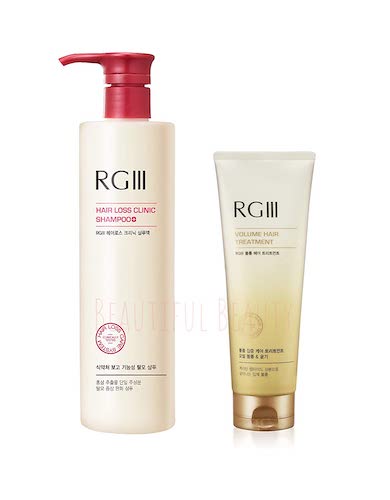 ---
---
Another Korean brand name Somang also has wonderful product names Gold Scalp cleanser. Available in 730 ml bottles, this red ginseng-infused cleaner has a sweet smell and helps with the itchiness of the scalp and hair loss.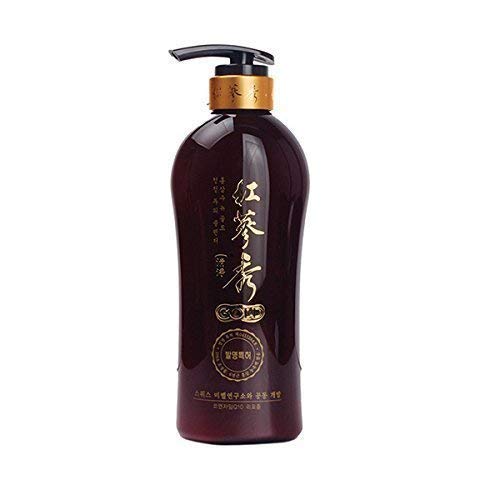 ---
Skincare
It gets difficult to pick the best product when there are so many choices. Under the skincare umbrella, people widely use red ginseng for creams, mists, masks, and cleaners, to name a few.
---
---
A classic example of red ginseng in skincare is the combination pack from HWANG HOOBIN. It is a red ginseng skincare set of 5 items that do not disappoint. It is suitable for all skin types and comes with a set of toners, emulsions, an eye cream, serum, and finally, a cream.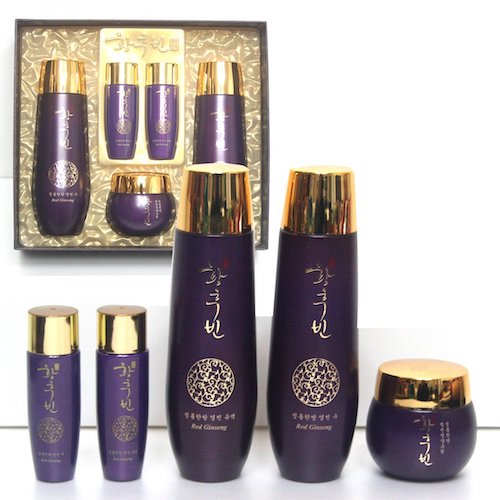 ---
---
Guerisson 9 brings out the Red Ginseng cream packed with the goodness of 6-year-old fermented ginseng. It moisturizes and has anti-wrinkle properties. The cream is very light on the face and has deep nourishing properties. It is a must-grab for that youthful look.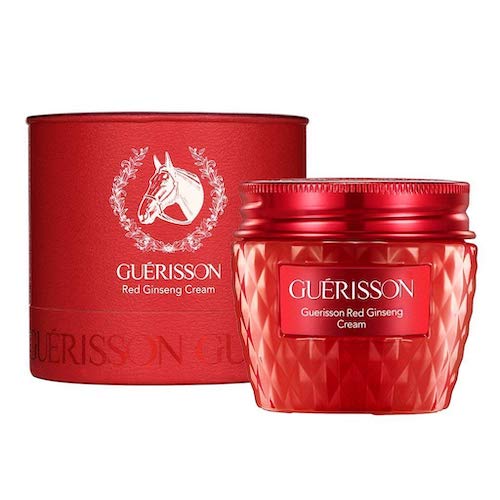 ---
---
---
Sulwhasoo's anti-aging cream also comes with concentrated red ginseng and is suitable for all skin types. Though it is a little heavy on the pocket, it is available in 2 Fluid-ounce bottles and priced at $162.99.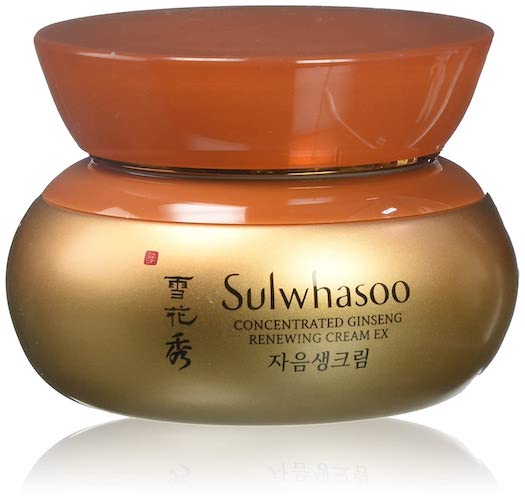 ---
---
With the Korean Ginseng corporation's launch of the premium cosmetic brand, Dongibni is here to bring the best red ginseng products. Their face serum is power-packed with this herb, is water-based, and has anti-aging properties. It is called "Doginbi 1899," suitable for all gender types, and its online price is $54.99.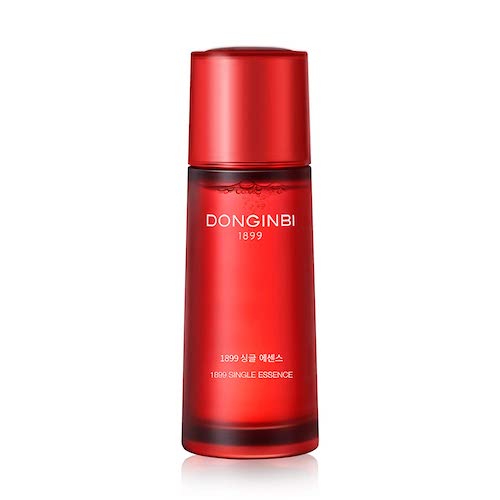 ---
---
An important part of skincare, you can now see sheet masks in the purse of every lady or even men handbags. K- Beauty has made them as mandatory as a water bottle. Many Korean brands with unique properties make masks with red ginseng to them
The Face Shop has a natural red ginseng mask that revitalizes the face in as short as 15 minutes. Red ginseng, along with water and glycerine, makes it a quick fix before an important meeting or a romantic date night. It is available online at $2 per mask.
---
Dietary Supplements
Red ginseng is also widely used as a dietary supplement for improving immunity and wellbeing. Some examples of the same are below.
---
---
Like all plants, red ginseng also has oil that can be extracted. When consumed in regulated doses, this can be highly beneficial. At the same time, there are a few companies that produce ginseng oil.
ILWHA has put together 40 years of research behind the extraction of the purest form of ginseng oil. Their product is based on science and is backed by doctors and scientists. This oil has 12% Ginsenoside, and it is an herbal supplement that boosts energy, provides strength to the immune system, and even reduces mental confusion. There is no added alcohol in this oil, and human trials have proven its effects.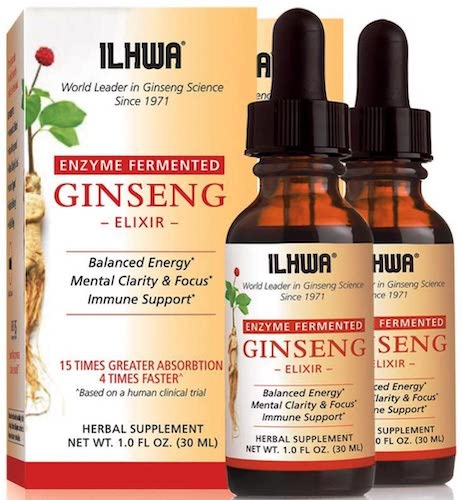 ---
---
KGC Cheong Kwan Jang has tea with the purest form of red ginseng, which is six years old. Claimed to be number one for the quality of ginseng, this light flavored tea offers a calming effect on the nerves, increased stamina, and increased metabolic rate. Being free from added caffeine does not have any side effects.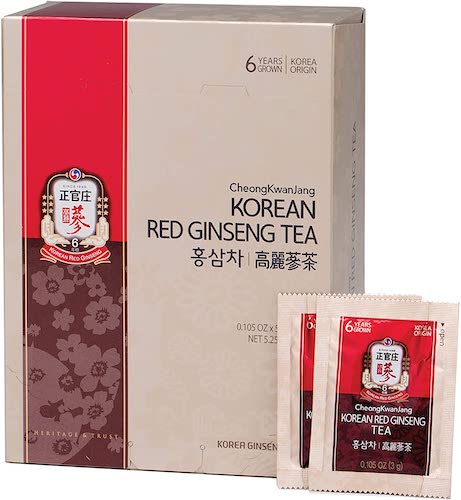 ---
Wrapping UP!
There are plenty of products in the market and online to feel youthful again. Red ginseng has provided the beauty and health world with the ultimate result and cure. There is no time to waste; the fountain of youth is here and getting sold out fast. Get that red ginseng routine started and rediscover a younger self.
Our editors independently select all products featured on KoreaProductPost. However, we may earn an affiliate commission when you buy something through our retail links.
Images: Amazon