Photon Stand is a portable surface disinfection unit that can kill more than 90% of bacteria and virus in just 10 minutes!
It is the latest development from the leading global providers in UV LED technology in South Korea, Sensor Electronic Technology, Inc (SETi) and Seoul Viosys. It is the latest application of their Violeds UV-C LED technology.
What is Photon Stand?
It is a portable disinfection unit that can clean COVID-19 occurrence areas like hospitals, schools, day-care centers, and such. All these can be potentially infected by the virus and disinfecting them will help in controlling the pandemic situation. The Photon Stand can kill more than 90 percent of bacteria and virus in just 10 minutes!
According to Seoul Viosys, Photon Stand can kill more than 90% of bacteria and viruses for a room up to 29.02 square meters within 10 minutes. It can even kill 99% within 10 minutes if the room is a bit smaller, 13.84 square meters.
The companies behind this Korean product will push the Photon Stand unit for OEM manufacture and promote the Violeds UV-C LED technology across global markets to manufacturers of medical equipment.
How Does It Work?
Violeds technology is Viosys' patented UV-C LED technology that can disinfect multiple types of bacteria and virus. And, the Photon Stand uses the same technology, making it one of the first portable units that can disinfect surfaces without any chemicals.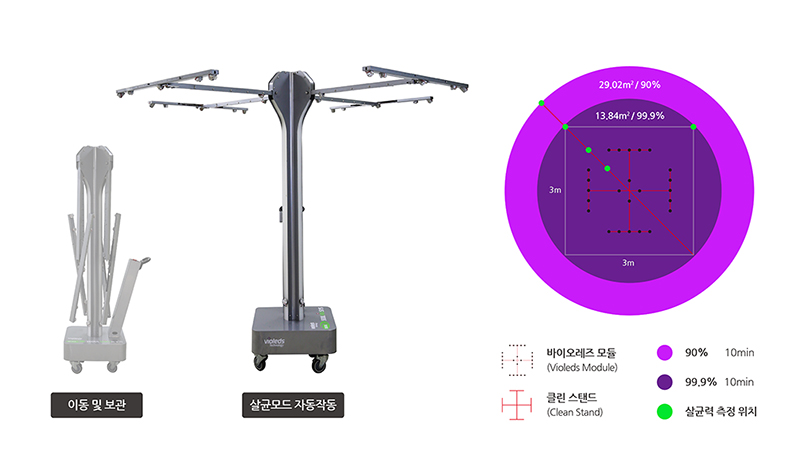 Violeds take advantage of the UV by eliminating its drawbacks to provide users with a healthy and safe environment effectively. It uses specialized LEDs that emit in the UV spectrum.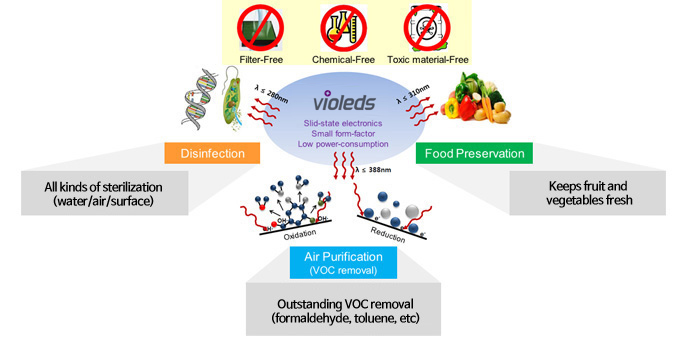 UV LED is unlike the conventional LEDs and it is useful in procedures like disinfection, purification, and deodorization of air and water. It uses functional photons and photocatalysts of energy that have the features of disinfection and decomposition of any pollutants.
The best part of Photon Stand is that there is no use of any toxic chemical substances in disinfection process.
Is Photon Stand Effective?
The Violeds technology can disinfect 99.437% of the SARS-CoV-2 in one second according to Seoul Viosys. It has carried out these tests with a South Korea-based research institute, KR Biotech. This institute specializes in coronavirus sterilization testing.
The Photon Stand is easy to use and control. There is a non-face-to-face operation so you don't have to worry about getting UV exposure.
Is it Cost-Effective?
For an area of 15 square meters, the cost of operation of the Photon Stand is less than 10 cents. Usually, this is the room size for an isolation room for COVID-19 infectious patients.
It is just 2% of the total cost of chemicals ($4) required to disinfect a room of the same area.
One can say that the cost of the device will make it more expensive! But, comparing the two even when including the cost of Photon Stand's Violeds UV-C LED molecules, the cost will be overall cheaper for a large area.
As the unit is portable, there is no extra cost of any special labor for the removal of chemicals and cleaning.
Why Use Photon Stand?
The usual way of disinfection and sterilization of quarantine areas is using chemical disinfectants. But, these chemical disinfectants can be hazardous and fatal to the human body. If the removal and chemical cleaning are not proper after the disinfection procedure, it can result in breathing problems and even dermatitis.
Photon Stand uses UV and that leaves no left over residue. It disappears without any trace and does not have any after effects. This makes it suitable for use in medical facilities and other multi-use facilities.
Check out other interesting articles from KoreaProductPost: