When it comes to rice, the first thought that comes is that it is a staple food in most Asian households. But, did you know that it does wonders for your skin when it is a part of your K-beauty products? Rice has been traditionally used for a long time to make the skin healthy and bright.
Keep reading to find out about the benefits of rice in K-beauty products and in your daily skincare routine.
Benefits of Rice
Although it may feel that rice as a K-beauty ingredient has become popular recently in the variety of skin care products, it has been around for ages! For centuries, women from Korea, China, and Japan have been using rice water for hair and skin care.
Rice water or rice bran is rich in minerals, vitamins A, C, E, ferric acid, and antioxidants. In K-beauty products, rice as an ingredient offers multiple benefits. It is nourishing, anti-inflammatory, and brightening.
Rice is also a soothing component of beauty products that can reduce skin irritation and redness. If you are experiencing blemishes, then rice will help in skin healing at a much faster rate. Refined rice bran is also an excellent but gentle exfoliator. It removes dead skin cells, and since it also contains vitamins and minerals, it leaves the skin softer and more supple.
Rice is also an anti-aging ingredient, along with all the soothing and healing benefits. Rice water contains allantoin, which is a molecule responsible for improving skin elasticity. It also helps in softening the skin and keep it supple. Rice also contains deeply nourishing molecules and can keep your skin moisturized in the fall and winter seasons.
Is Rice Suitable for All Skin Types
Rice is a gentle ingredient, so it is perfectly alright for all skin types. You can comfortably use K-beauty products containing rice water or rice extract even if you have sensitive skin. However, rice as an ingredient is most beneficial for people with acne-prone skin or dry skin. This is because rice is a healing and hydrating ingredient.
If you have a weak skin barrier, then products with rice will help strengthen the barrier naturally and protect the skin from external elements.
Rice in K-Beauty Products
Rice is a powerhouse ingredient that you can find in many different K-beauty products, including cleansers, toners, moisturizers, and even face masks.
---
---
The foaming cleanser from THE FACE SHOP contains rice extract that gently moisturizes the skin with its dense and rich foam. The formulation also contains vitamins A, B, and E, along with minerals and ceramides. THE FACE SHOP Rice Water Bright Foaming Cleanser can remove skin impurities, moisturize, and make your skin even-toned.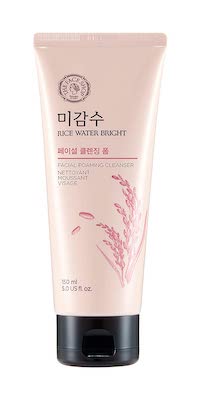 ---
---
It can instantly improve your skin tone if you have any dullness. You can gently exfoliate the skin with this 2-in-1 Skinfood Rice Wash Off Mask. The formulation of the mask is creamy with crushed pieces of rice. It has nourishing and moisturizing effects on the skin, and the rice pieces can gently scrub dead skin cells. It also contains Rice Nuruk Fermented Water, enriched with Cheorwon Odae rice's active ingredients.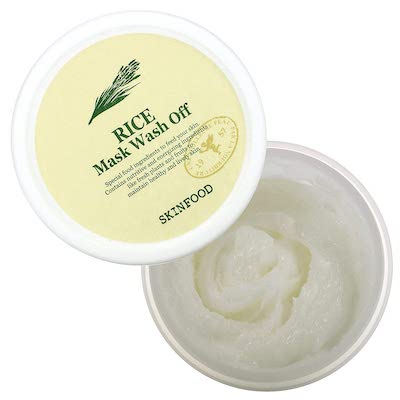 ---
---
It is a much-loved toner that is packed with skin benefits. I'm From Rice Toner contains rice extracts that can keep your skin hydrated while brightening the skin tone. The toner forms a protective barrier over the skin, which can help reduce water loss and protect it from external stressors. It removes dead skin cells and provides luster to dry skin by moisturizing it deeply. The formulation is free of any harmful chemicals that make it suitable for all skin types.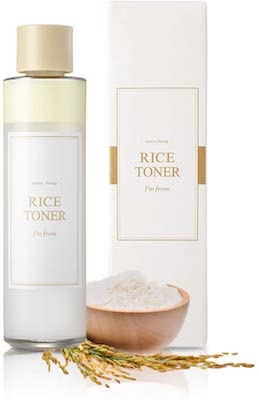 ---
---
It is a cream-type mask whose formulation is enriched with the benefits of rice. Innisfree My Real Squeeze Rice Sheet Mask will make your dull skin bright and clear once again! The thin sheet mask is made of eucalyptus to deliver the active ingredients into the skin effectively. Along with rice, it also contains Jeju green complex (green tea, cactus, tangerine, orchids, and camellia leaves) that help in making your skin flawless.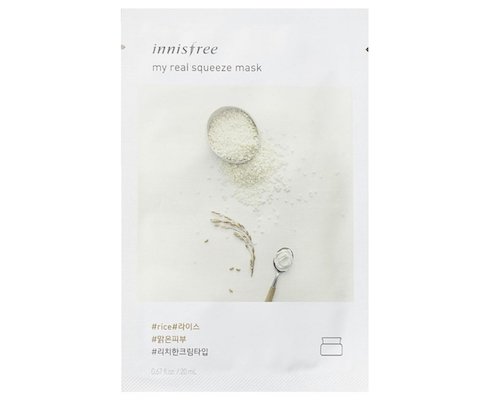 ---
---
It is a 2-in-1 soothing gel and nourishing cream with a lightweight formulation that can instantly calm down irritated skin. THANK YOU FARMER Rice Pure Gel and Cream has two components – gel and cream. The gel is moisturizing, soothing, and brightening as it contains green tea extract. The cream has more nourishing effects and strengthens the skin barrier with mung bean extract. The main ingredient, rice, comes from Gyidong Island that is pollution-free.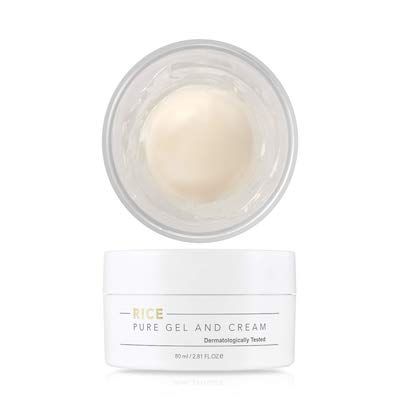 ---
These are some of the K-beauty products whose formulation contains rice, rice water, or rice extracts that can brighten your skin tone, nourish it deeply, and also help in barrier repair. It is not only meant for your table, but it also needs to be in your skincare regime!
Read more about K-beauty ingredients and other articles in the Ingredient Spotlight series:
Our editors independently select all products featured on KoreaProductPost. However, we may earn an affiliate commission when you buy something through our retail links.