Ceramides are magical ingredients in K-beauty products that offer excellent hydration, making your skin plumper and moisturized.
Have you ever wondered about the natural substance in your skin that protects you from outside damage? That substance is ceramide. Ceramides are the fatty acids present in your skin. These fatty acids protect your skin from several outside damages preventing infection and dryness. Ceramides are present in many moisturizers and creams.
30%-40% of our skin's outer layer is built with Ceramides. Ceramides are very important for our skin as Ceramides successfully retain skin moisture and prevent germs from entering the body. Maintaining the level of Ceramides in our body is necessary for our skin and our health.
Ceramides as A Beauty Ingredient
Ceramides are usually found in enough quantities in our body, but it often decreases with age. When the Ceramides content in your body decreases, your skin can dehydrate quickly. This can even lead to bigger skin problems like continuous irritation and dryness. Ceramide is an important element for the skin's barrier. Along with skin, Ceramides are also important for cell functioning and the development of brain cells.
Skincare Benefits of Ceramides
This natural fatty oil is admired all around the world due to its skin benefits such as –
Improve the quality of your skin's health.
Creates an effective barrier that prevents moisture from leaving the surface of your skin.
Prevents dryness by locking moisture into the skin
Protects your skin from environmental damage
Blocks the entrance of cells preventing germs like fungi and bacteria from entering the skin cells
Ceramides-Infused K-Beauty Products
Keeping in mind the benefits of Ceramides, many K-beauty brands are interested and infusing their products with them. Listed below are some top K-beauty products that are infused with ceramide.
COSRX Comfort Ceramide cream was built with the main motive of overcoming the Ceramide deficiency in your skin. Ceramide present in it locks moisture into your skin and provides irrigation-free and plum skin. It also helps repair and naturally provides super strength to your skin barrier.
COSRX Comfort Ceramide cream is tested and approved by dermatologists. It is built with skin-friendly type 3 Ceramides to lock the moisture and 50% Centella Asiatica to provide smoothness. It's suitable and safe for every skin type. It is very easy to use and especially helpful to those with problems like eczema or psoriasis.
Wonder Ceramide Mocchi Toner by TONYMOLY is a toner for multiple uses. This wonder toner shows wonders, and its hydrating effects keep your skin free from dryness and irrigation. It not only makes your skin look good from the outside but makes it healthier, too, from the inside.
It's also called multi-tonner for its multiple uses and multiple ways in which it can be used. You can condition and hydrate your skin using a cotton pad and gently sweep it over it. For intense hydration treatment, you can soak a sheet mask into the toner and leave it on your skin for 10-15 minutes. This toner can be used effectively through different methods.
Rice Ceramide Moisturizing Toner by The Face Shop is built not just with ceramide but with several different natural ingredients like rice extracts and rice bran oil which facilitates quick application and absorption; it has a rich and smooth texture which makes it comfortable to apply.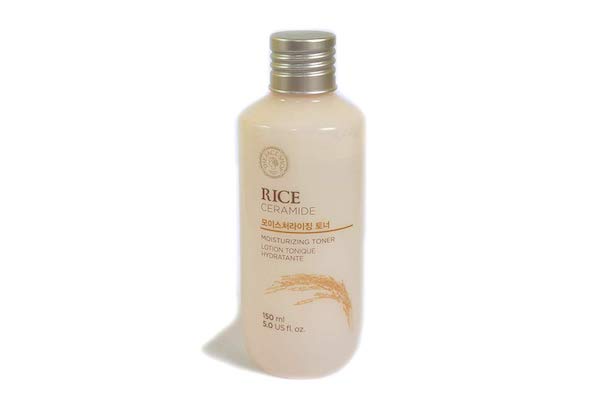 The fine combination of rice and ceramide makes this toner much more beneficial for the skin. The rice present in it successfully exfoliates damaged skin cells and provides whitening effects. Ceramide is popular for preventing moisture loss, but when it gets combined with rice extracts, it becomes more effective.
AMPLE:N Ceramide Shot Ampoule by Coreana contains 50,000 ppm of Cera complex that gives instant moisture to sensitive skin; the ceramide is used in such a manner that it instantly gets absorbed by the skin and internally boosts lipid biosynthesis to encourage internal moisturization.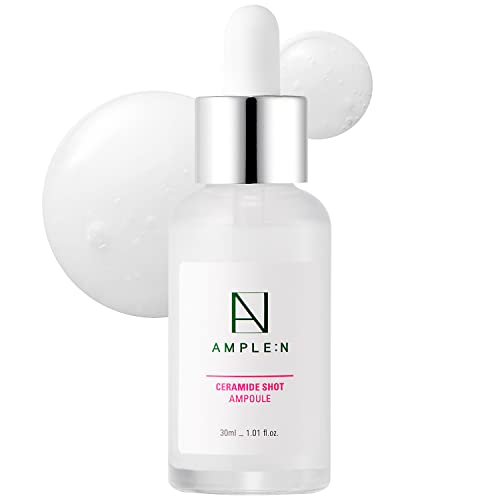 Along with moisture, it also strengthens your skin barrier and makes it much stronger. In addition to strengthening, it also keeps your skin supple, soft, and hydrated. To use it effectively, you must apply it gently with soft hands on your skin and spread it all over the area.
Our editors independently select all products featured on KoreaProductPost. However, we may earn an affiliate commission when you buy something through our retail links.