Beauty of Joseon is a Korean skincare brand that brings back the beauty secrets from the Joseon dynasty, featuring traditional methods in their products.
'Beauty of Joseon' is a Korean beauty brand inspired by the beauty and wisdom of the famous Joseon dynasty's women. This brand perfectly blends the richness of traditional herbal ingredients with a minimalist modern approach for all its products. 
This brand focuses on making your skin clear, healthy, and flawless through natural ingredients rather than using makeup to beautify yourself. Their products are cruelty-free and contain no artificial fragrances or colors. Their packaging is also very unique and minimalist.
Take a look at these five best products from Beauty of Joseon so you can also achieve healthy and glowing skin.
This serum works wonders for sensitive and irritated skin and is formulated with 76% green tea leaf water and 2% panthenol (Vitamin B5). The green tea leaf water helps to heal any skin damage caused by UV rays while also making your skin clear and youthful. At the same time, the panthenol present in this serum will protect your skin from any external stimuli by creating a form of moisture film on the skin's surface.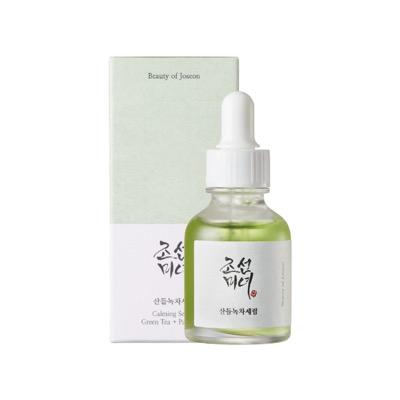 Beauty of Joseon Calming Serum has a lightweight as well as watery texture. It is a great substitute if your skin is sensitive to any sensitive fragrance or essential oils. Its application is also simple and easy; take 2-3 drops of calming oil. Pat it gently on your skin to help absorption. 
Packed with numerous skin-beneficial ingredients, Beauty of Joseon offers sunscreen with no white cast and broad spectrum protection. Exposure to UV rays can be the reason for hyperpigmentation, redness, and wrinkles. This sunscreen will help convert these harmful UV rays into such heat that will be harmless to your skin.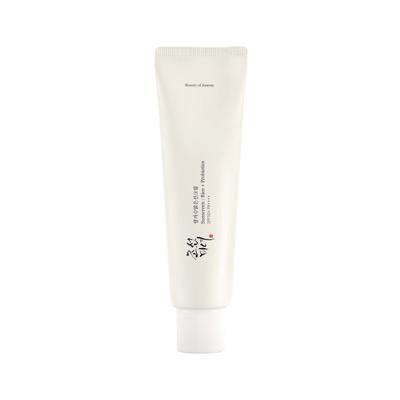 This serum is also moisturizing, making it a 2-in-1 sunscreen. Aside from UV filters, this sunscreen is formulated with 30% rice extract. During the Joseon dynasty, the usage of rice water was said to beautify the skin. 
This SPF50+ PA++++ sunscreen has been tested in two independent laboratories, one in Korea and another in Spain.
In medical terms, ginseng is known as a "God-given Herb" as it has several skin benefits. This essence is formulated with 80% ginseng root water, 2% niacinamide, and 0.04% adenosine.
Ginseng root water helps in blood circulation and prevents skin aging, hyperpigmentation, and wrinkles. Melanin is responsible for darkening skin tone. Niacinamide reduces its mobility and helps make your skin tone even and clear. While adenosine helps prevent premature skin aging by promoting collagen synthesis.
If your skincare includes Ginseng Essence Water from Beauty of Joseon brand, it can greatly impact your skin by making it soft, bouncy, soothing, and moisturizing. It contains no alcohol or artificial colors. 
Beauty of Joseon dynasty cream is a multi-purpose cream formula with several herbal ingredients. Such as ginseng, rice bran water, honey, Squalane, and niacinamide. This cream provides ample moisture to your skin. If your skin also needs deep hydration, brightening, and nourishment, then you should definitely go with this cream.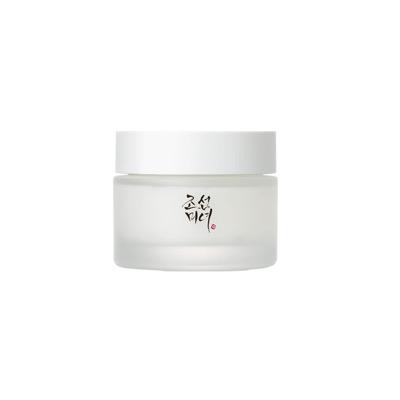 Rice bran water is rich in vitamins B, C, E, and amino acids, making dry skin moisturized. Squalane creates a protective barrier and balances the water content and skin oils. 
The application of this cream will leave your skin healthy, glowing, and bouncing. You will also get younger-looking skin as it prevents wrinkles and premature skin aging.
Do you experience dullness and wrinkles in your skin around the eye area? Then give this Beauty of Joseon Revive eye serum a try. Enriched with the herbal nutrients of ginseng root extract and retinal liposome, this eye serum will improve your skin elasticity without damaging the delicate area around your eyes.
In Korean traditional medicine books, ginseng was known to be recorded as 'Shincho,' meaning herbs given by gods. Joseon dynasty's most beautiful woman, Hwang Jini, used ginseng decoction as bath water.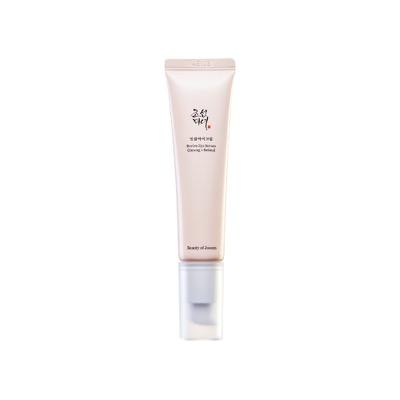 Retinol, which is also a vitamin A derivative, has been used in skincare for ages as it helps reduce wrinkles. 
This product was designed keeping in mind all skin types, and it has a silky texture that will provide your skin with adequate nourishment without being sticky. 
Our editors independently select all products featured on KoreaProductPost. However, we may earn an affiliate commission when you buy something through our retail links.